Happy birthday Affnan. Whether you like it or not, you'll always be 7 in my book. Ha! It's your last year as a teen. Live it up.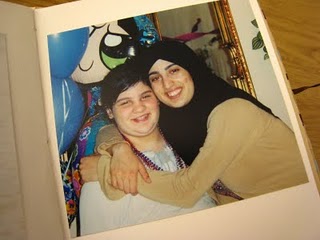 I searched through all of my pictures and couldn't find a single one of you from when you were a baby. Crazy how I found this one of us from your surprise party. It's almost as if something somewhere doesn't want you to forget how much I love you. Or how much I've done for you. Or how I've always been there for you. Or how I'm the best big sister a little sister could ever ask for.
I found this picture in album/book that I made for an art class over 6 years ago.
I made that. Sure in these days of all things etsy and handmade it seems like no big deal. But this was before etsy. This was before Target started selling the same exact design on a journal. Oh I was so proud of this lil guy. Even my art teacher was impressed. I was supposed to do the same exact design as a window treatment for Affnan's room. Somehow never got around to it. But Affnan forgives me because we made up for it in her new room design. I'll have to post pics of that one day. Once it's finished.