Maysoona has always been my baby monster.  By "monster" I mean the sweetest, most precious baby girl that gives me baby fever every single day.  Without a seconds notice though, she can be found throwing a very loud tantrum on the floor. At the tender age of one.  Someone save me.
As the months drew nearer to her birthday, I wanted to come up with a theme that I could work off of.  Obviously, I considered a monsters theme but was disappointed by the selection.  Too scary or too boy-ish. So I did what any one desperate for a cute and unique product would do; I turned to etsy.  I truly wish I invented etsy.  It is quite possibly one of the greatest websites out there.
I found a whole lot of Sesame St. items and again a lot of things geared toward boys. Am I the only mother of a baby girl monster? Notify the press! While there were quite a few great listings, none of them felt right.  That is until I found etsy seller a million ideas.  The monster party pack was exactly what I was looking for.  The monsters were fun and simple.  Not scary and not too cutesy.  I was able to customize the colors and order just the files I needed.  True to the seller's name, once I downloaded my files I began to have a million ideas of what to do with the monsters images.
First things first: colors.  Hot pink, light pink, plum, dusty blue, and apple green. This dress started out the whole color scheme. As I began to shop for items though, it was difficult to find exact colors but I didn't stress out too much.
A last minute decision was to include photos of Maysoon through out her first year. I had seen quite a few of these on party blogs. I went with the simple route and just taped them to lengths of ribbon and hung them behind the food/dessert table.  It added a sweet and personal touch.  A total hit with the adults.
Picked up some fresh flowers from the farmers' market that morning.  (Doesn't that sound so cute?) My intentions were to go to the flower wholesaler but they turned out to be closed so I continued on the extra 2 blocks to the market.  Mind you, that was my first time ever going to the farmers' market in my city. Sad, I know.  I'm going to make it a weekly habit from now on.  The flowers were only $3 a bunch. So beautiful.
Outside I also made windsocks out of embroidery hoops and left over crepe paper. I saw the idea in a Better Home and Gardens issue. I also had three smaller ones hanging at the points where the crepe paper bunting was attached to the house. Unfortunately, no picture. Can you tell it was windy?
The kids attacked this little candy/snack set up.  While it's a super cute idea, it's also a horrible one when you give the kids free reign over it. Just being honest. There were cups filled with uneaten snacks and candy all over the place once the party was over.  If I ever decide to do this again, I will include little bags to make their own take home favors at the end of the party.
With the left over fabric from the gift bags I made some beanbags to use for the games.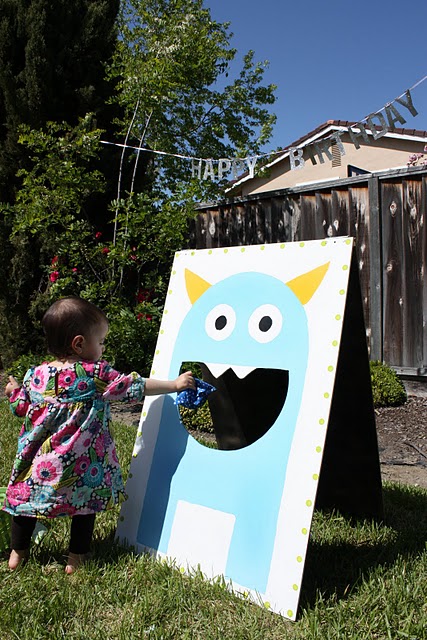 Stay tuned for part 2.