Lunch, games, goody bags aside, there's really only one reason people look forward to a birthday party. Dessert. Butter rich, sugary-sweet, tasty dessert.
For Jenin's first birthday I made nine different kinds of cookies. This time I wanted to include more of a variety to make things interesting and to provide something for every one's tastes.
To start: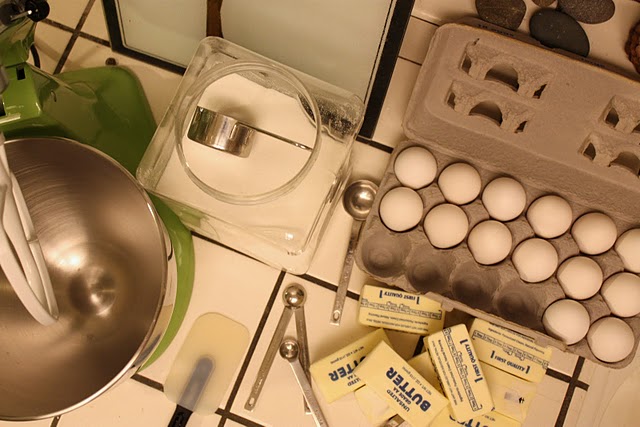 To ensure that everything would be ready for the party, I made a dessert plan to keep me on track. Wednesday: make cookie dough. Thursday: bake, bake, bake. Friday, chocolate dipping, make cupcakes and frosting. This helped me out tremendously. A far cry from the night before Jenin's party when I was up until 2 am making batch after batch of cookies. You live and learn my friends, you live and learn.
Dessert list:
Chocolate Chip Cookies (using M&Ms instead of chips)
Snickerdoodle Biscotti
Chocolate Dipped Marshmallows
Spritz Butter Cookies
Vanilla Cupcakes with Cream Cheese Frosting
Chocolate Dipped Pretzels
Paula Deen's Gooey Butter Cookies (which were a failure)
Dear M&Ms, Thank you for marketing your candies in colors that match my daughter's party perfectly. I appreciate that you also included free customization on every piece. Love, Me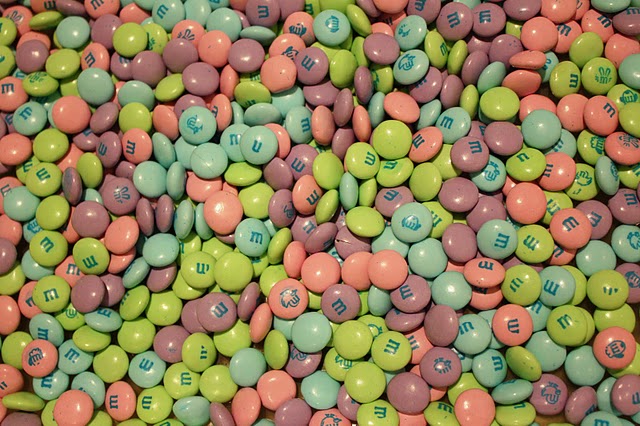 Lots and lots of mini magic layer bars to be made. See the full process here.
Introducing the newest member of our family:
This little guy has certainly earned his place in the kitchen. I don't own a microwave so I've always had to melt chocolate on the stove using a double boiler. A major pain and so much chocolate would be wasted. I bought it from Joanns on sale. I totally love it and would buy it again. Any store that carries Wilton baking supplies will have it. I believe I saw it at Walmart as well for around $20. By the way, did you notice the perfect sized pretzel rods? When I saw them in that size that's the only reason I ever considered making chocolate dipped pretzels. They are the perfect size, about 4 inches long. Enough bites to enjoy it without thinking "what am I supposed to do with the rest?" I found them at Safeway (or Vons, whatever is in your area) under their organics line.
Chocolate dipped pretzel rods:
Melt chocolate (by any method you know of). Dip pretzel halfway. Set on wax paper to set or sprinkle with desired topping immediately. Once set, drizzle with more chocolate (if not using other topping).
I also put the chocolate melter to use to dip the marshmallows, halal, of course! My best friend Nada actually dipped the marshmallows for me while I finished up other details for the party.
Marshmallow pops: Insert lollipop sticks into marshmallows without going all the way through. Dip in melted chocolate. Sprinkle with desired topping. Let set.
I didn't want to put the marshmallows on the wax paper because I didn't want the sprinkles to be pressed into the chocolate. So I used egg cartons to hold them up as they set. Styrofoam blocks are usually used but this is what I had on hand. Plus this option is free. I will give the Styrofoam blocks credit for holding the pops up straight though.
The first time I made snickerdoodle biscotti was for Jenin's party. It was also my first time making biscotti ever. Don't be intimidated by the recipe. It's not as hard as it sounds.
Snickerdoodle Biscotti via Cooking Light Annual Recipes 2001
2 3/4 cups all-purpose flour
1 cup sugar
2 teaspoons baking powder
1/4 teaspoon salt
1 tablespoon vegetable oil
1 teaspoon vanilla extract
3 large eggs
Cooking spray
2 tablespoons sugar
1 teaspoon ground cinnamon
1 large egg white
1. Preheat oven to 350 degrees.
2. Lightly spoon flour into dry measuring cups, and level with a knife. Combine flour, 1 cup sugar, baking powder, and salt in a large bowl. Combine oil, vanilla, and 3 eggs, and add to flour mixture, stirring until well blended (dough will be dry and crumbly).
3. Turn out onto a lightly floured surface, and knead lightly 7 to 8 times. Divide dough in half. Shape each portion into an 8 inch long roll. Place rolls 6 inches apart on a baking sheet coated with cooking spray; flatten each roll to a 1 inch thickness.
4. Combine 2 tablespoons sugar and cinnamon. Gently brush tops of rolls with egg white, and sprinkle with cinnamon mixture.
5. Bake at 350 degrees for 30 minutes. Remove rolls from baking sheet; cool 10 minutes on a wire rack. Reduce temperature to 325 degrees. Cut each roll diagonally into 15 (1/2 inch) slices. Place slices cut side down on baking sheet. Bake 10 minutes. Turn cookies over, and bake an additional 10 minutes (cookies will be slightly soft in center but will harden as they cool). Remove from baking sheet; cool completely on wire rack.
I had made Paula Deen's cookies before with much success. This time they completely flattened out and crumbled. I realize the only difference was that this time I had use parchment paper instead of using an ungreased tray like the recipe calls for. Such a shame because these are so tasty.
So I baked, rolled, dipped, kneaded, and baked some more. The end result?
(Sorry for the flashed picture.)
Marshmallow pops.
Chocolate dipped pretzels drizzled with white chocolate.
Momzilla moment #26: I'm considering naming any other children I have names that start with M just so that I can use M&Ms for free monograms on their birthday desserts.
I completely forgot to take pictures of the spritz cookies, the magic layer bars, and the snickerdoodle biscotti on the day of the party. You can see them on the left side of the table though. Even worse, I had forgotten the coconut macaroons in the fridge. It wasn't until every one was nearly done with their dessert that I had remembered. I went around and passed them out individually from the tupperware they were in. Not pretty but their taste made up for lack of presentation.
This is the biscotti the next day.
Coconut macaroons. This is from my dad's birthday but it's the same recipe and the same look.
Maysoon's smash cake was from Safeway. I kept joking that day that Jenin had decorated it. I figured since it's main purpose was to be messed up I wasn't going to fret over a sloppy frosting job.
In the end, the party was a success. It would not have been possible without all the help that I received. I didn't ask for any help at Jenin's party and suffered tremendously. I was so stressed out the entire time that I missed out on the special moments of her party. I'm blessed with great friends and family that were eager to help out so that things ran smoothly this time. Every one, including me, really had a great time. And really, that's what a party is all about.