Oprah may be gone, from day time TV anyways, but this nut-crusted French toast recipe from her site will forever live on.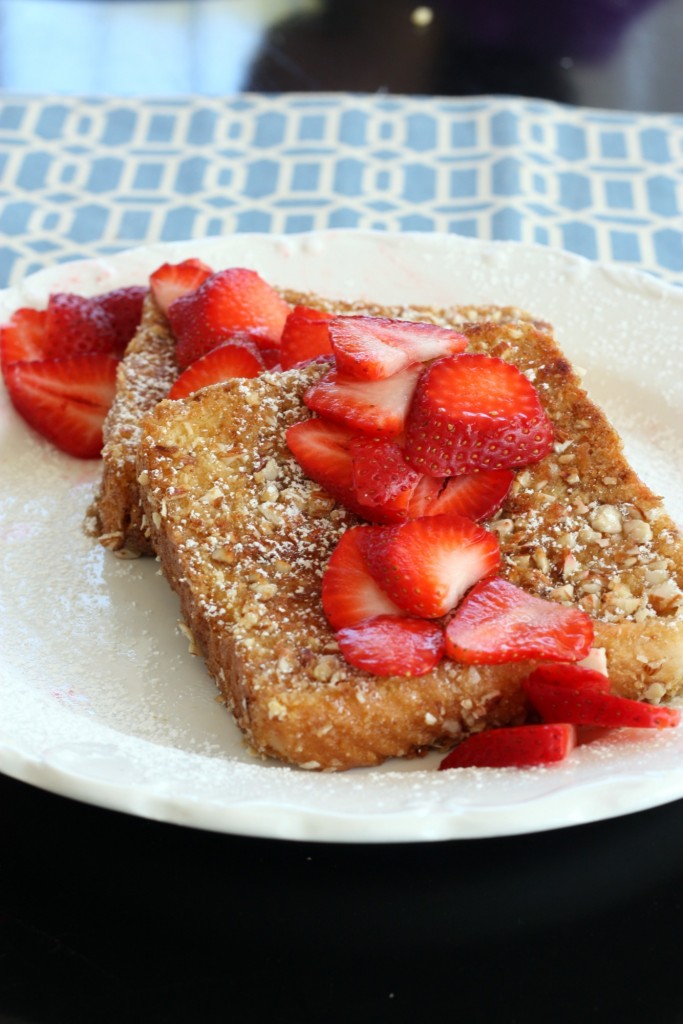 French toast is hands down my favorite thing for breakfast.  I'm open to all sorts of variations. 
Funny story:  While visiting Jordan for the very first time in 2004, I requested French toast.  The waiter looked at me funny so I attempted to explain in my broken Arabic.  "You know, the bread that has the eggs on it? The kind you eat with syrup." Finally the light bulb went on and he nodded that he understood. Off he went as I patiently sat and awaited Jordanian style French toast.  My appetite grew and grew with every moment as it had been a few weeks since I had last tasted my beloved French toast.  Finally the waiter came out with our meals.  He set my plate in front of me and the whole table couldn't help but burst out into laughter.  Centered on my plate was a slice of toast with scrambled eggs on top.  Poor guy, at least he tried.
Ingredients
6 eggs
3/4 cup whole milk
1/4 cup sugar
1 teaspoon vanilla
1 teaspoon cinnamon
3/4 cup brown sugar
1 3/4 cups coarsely ground whole almonds
3/4 cup plain breadcrumbs
1 loaf Texas Toast or French toast bread
8 tablespoons (1 stick) butter
Directions
Preheat oven to 200°. Place a baking sheet in oven to warm. In a large bowl, combine eggs, milk, sugar, vanilla, and cinnamon. Whisk until blended; set aside. Combine brown sugar, nuts, and bread crumbs.
Dip a slice of bread in egg mixture and allow excess egg to drip off. Lay bread on nut mixture, then flip to coat both sides. In a large skillet over medium heat, melt about 1 tablespoon butter without allowing it to brown. Cook French toast until golden on both sides, about 2 to 3 minutes, being careful not to let nuts burn. Place on baking sheet in oven and continue with remaining slices. Dip and coat each slice just before cooking, adding more butter as needed.