With Jenin in school, me involved with PTO and Girl Scouts, and general happenings in life, there always seems to be an occasion to celebrate. From Eid, the first day of school, and birthdays to baby showers, teacher appreciation brunches, Girl Scout cookie sale rewards and everything in between. There is really no limit to life's daily moments that can be commemorated with something special.
Now, you can always just give out little treats and call it a day. But why not customize them and take it Up A Notch? (See what I did there?) Seriously though, customized items make all the difference. It becomes a sweet gesture that's thought out, cute, and memorable all at the same time. Hands down my favorite aspect of something that's custom is that the finished product is unique to your personal style and taste.
Up A Notch provides customized labels on numerous items including, multi-sized candy wrappers, lollipops, Play-Doh tubs, bubbles, tea bags, and just able anything you can slap a label on. The sky is the limit for the uses.
This Eid, I took the million dollar chocolate bars Up A Notch with our custom wrappers.
I was able to submit my own personal image, in the case my blog background, for use as the background on my candy wrappers. I seriously squealed with delight when I opened the package. The colors were bold and sharp. The message, my choice, was cute and specific. Assembling my candies was a cinch. Using mini chocolate candies, I simply folded my custom Up A Notch wrappers around and secured in place with double stick tape. It was so simple that Jenin and Maysoon were helping me out. Don't want to wrap them yourself? No worries, November through March you have the option of receiving prewrapped candies.
I can't stop thinking about uses for the service Up A Notch provides. The personalization and custom aspect of it all has me eager to pass out little treats for occasions I normally would have overlooked. How can you not smile if someone gave you a chocolate that said "Jummah Mubarak" on it after prayer on Friday?
I think I've made it pretty clear that I strongly support Muslim woman run small businesses. I think it's very important to stand with and support each other. Imagine that each order comes with a little bit of barakah, blessings. I'm grateful to Up A Notch for filling this niche in the Muslim community market.
Our custom little treats made their way into my daughter's classroom Eid treat bags. They were quite a hit. The large bars were given as a sweet gift for her teachers.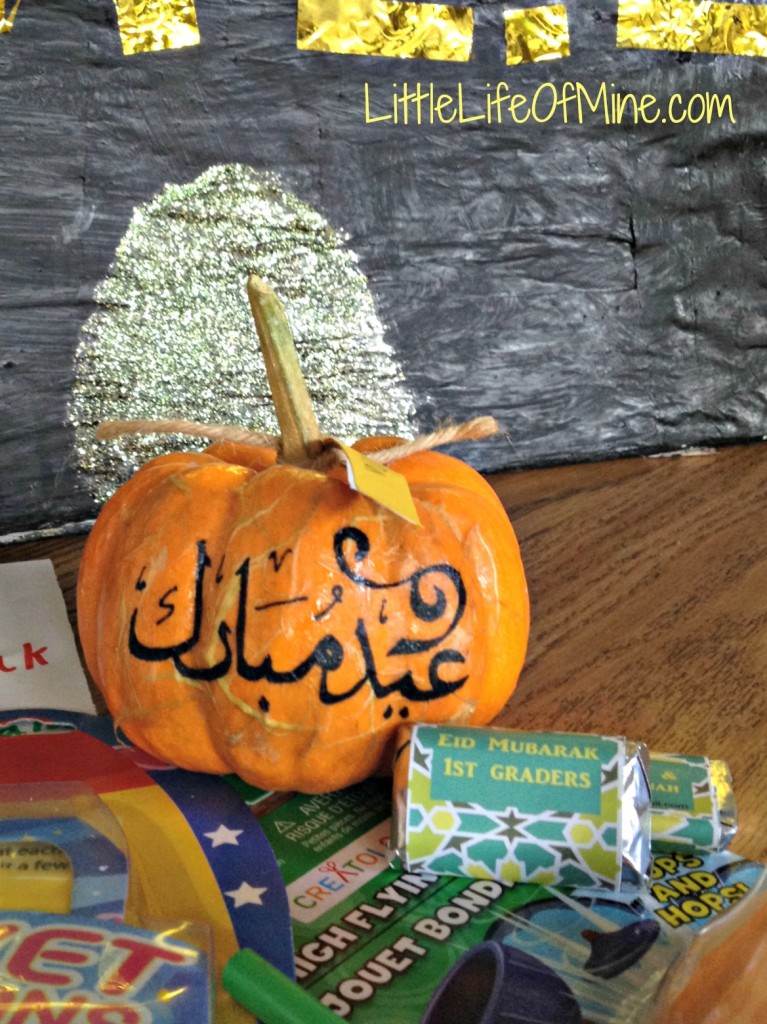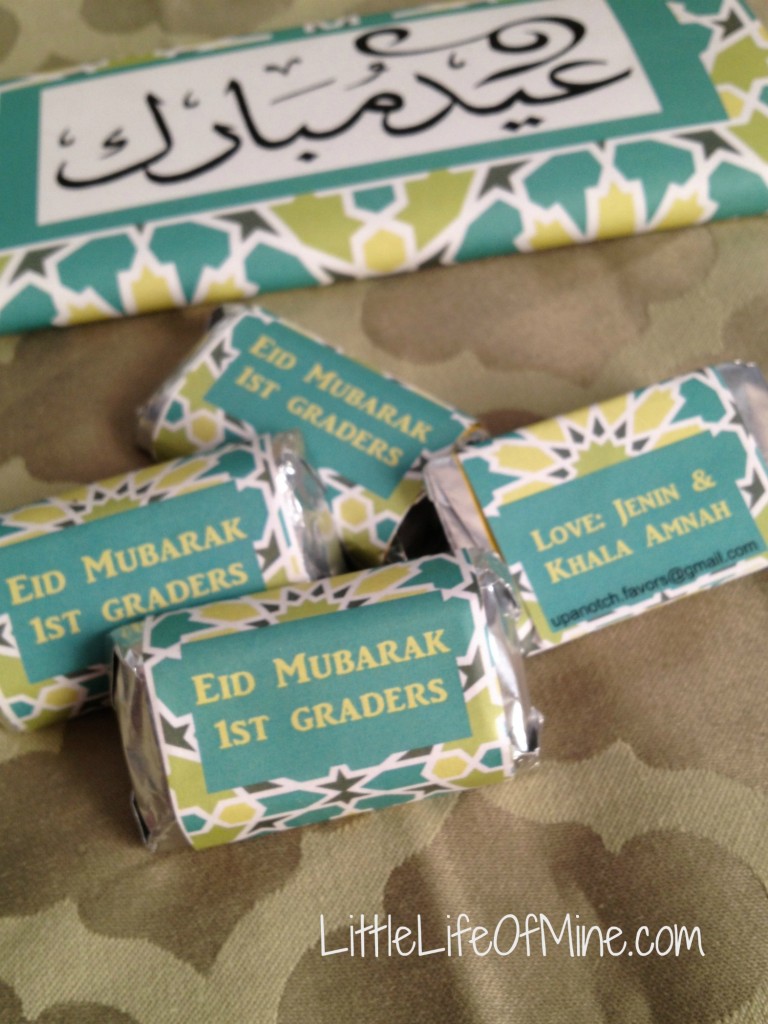 Find Up A Notch on Facebook and contact directly through upanotch(dot)favors(at)gmail(dot)com. Mention "This Little Life of Mine" in your order and save 15%. Yay!
So what are you going to do to take your treats and event Up A Notch?
;
Disclaimer: I received complimentary goods for review. The views and opinions expressed in this post are entirely my own. If you have a service or product that you would like me to review, please email me at littlelifeofmine(at)gmail(dot)com.