Yes, I went again.  I have a very good reason: my sister-in-law got married.  Yes, this sister-in-law.  Eight months pregnant or not, I was not going to miss her wedding.  It was a quick engagement thanks to my impending due date. 
I nested like a mad woman before I left to make sure I would come home to an orderly home because I knew the traveling would knock me out for a good two weeks.  Two weeks after those two weeks… I'd be having a baby.
So off we went: Rami, the girls, and I. And my baby bump.
This trip was set up to be something really special.  Something truly memorable.  It would be mine and the girls' very first Eid in Palestine.  Rami's first Eid with his family after 12 years.  Jenin would turn 5 with her cousins. Walaa, the only sister of the family, was getting married. The whole family, 2 parents, 6 brothers, 1 sister, 4 daughters-in-law, 6 grand-kids (and 2 on the way!) would be together for the first time ever.  Unfortunately, God had other plans.
At the Jordan crossing, Rami was denied entry into Palestine on his valid American passport.  The devastation that I felt at that moment and all the drama and hassle I suffered through during the remainder of the passport control process, is something I will never forget.  As a Palestinian citizen of the West Bank, he is not allowed entry unless he has his Palestinian ID card… which we he forgot.  Later that night, we got the news that my brother-in-law and his wife were no longer coming because of issues with my brother-in-law's passport.  When it rains, it pours. 
With heavy hearts we accepted God's will and tried to make the most of the upcoming occasions.
While this may have been my first Eid without my husband, it's the first time I truly felt like it was Eid.  Everyone in town was celebrating.  The night before, the souk was filled with people, lights, balloons, and vendors selling sweets. Even a sudden downpour of rain couldn't make us go home.   Once at home, Jenin and I brought some excitement to the house when we suggested that they decorate the house for Eid.  I was shocked to learn that no one decorates for the Eid and this was their first time.  We got right to work with our limited resources: two shades of cardstock and Jenin's crayons.  We went with an easy bunting and hand drawn signs.  Simple at best, but everyone was thrilled about them.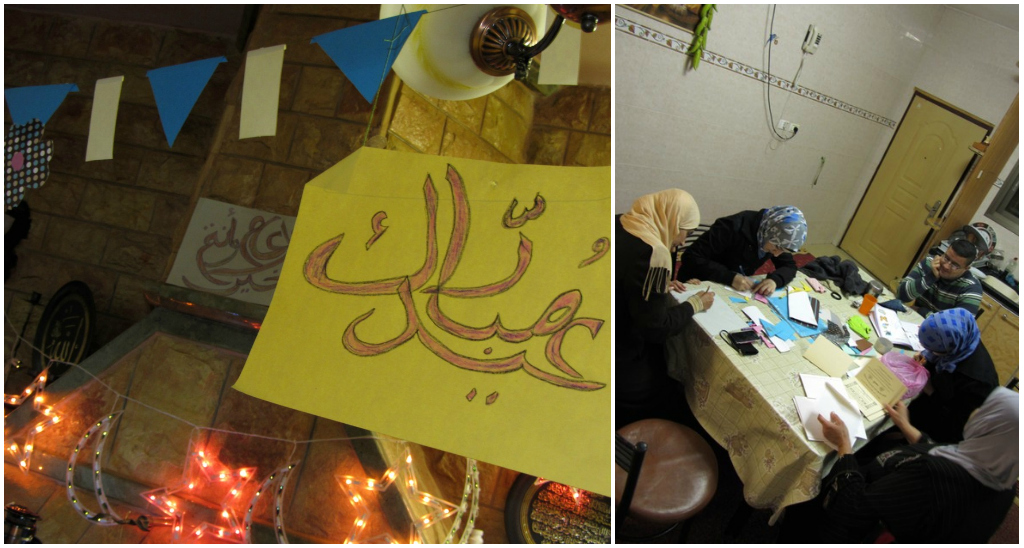 The next morning, Walaa and I went down to the city to offer Eid prayer in Jenin's oldest mosque.  Once home, we gathered up the rest of the family and headed out to make our rounds of all of the relatives' homes.  A caravan of cars driving from home to home, city to city.  Laughter and memories filling each moment.  Traditional ma'amoul, special candies, and hot Arabic coffee from a thermos offered at every home.  At night we had a barbeque.  And the next day we barbequed some more.  On the third day of Eid, my fifth day in Palestine, and Jenin's 5th birthday, we received the great news that Rami had entered (on his Palestinian ID) and was on his way.
Let's just say I broke down and cried in a gold shop in the souk.  And apparently, that's not the coolest thing to do.  Wonder if I'll ever catch up with the cultural Palestinian norms of the souk?
The days that followed brought the festivities of the wedding,  J's full birthday party, late nights of the whole family hanging out, breakfast, lunch, and dinner inivations. 
The whole trip passed quickly.  In fact, it's the first time I've been to Palestine and never made it to Jerusalem.  Luckily, my sister that lives there met me in Ramallah and I was able to spend a little (not nearly enough) time with her. 
Having been able to travel to Palestine twice in one year is a privledge that I am very grateful for.  While the trip may not have gone as originally planned, it was truly a special one with memories that I shall cherish forever.