One of the ideas I had for Arabic Day at the school was to incorporate more of the Arabic language into the day.  At first I thought of a simple paper pennant.  I'd draw out the letters on to card stock, then attach to twine and hang through the hall at school.  The more I thought about it, the more I realized all the effort wouldn't be worth it since it would end up in the trash at the end of the day. 
I thought about many different options but finally decided on a stenciled fabric garland.  I wanted it to be something that would last and be treasured by the school and students for years to come.  
I've made scalloped garlands before so I was familiar with the amount of time and effort it would take to complete it.  I've also stenciled garlands too.  Except, the challenge this time was to create the Arabic letters.  I have zero confidence in my ability to freehand the letters directly onto the fabric.  My English handwriting looks as if it stopped progressing in the third grade, so I could only imagine how my Arabic letters would turn out. 
I remembered that my daughters own an Arabic alphabet book.  The plan was to photo copy the pages and use an exacto knife to cut out the letters.  The more I thought about it, I realized that the paper wouldn't be the best medium for the stencils. My heart was in the right place and everything started to fall into place.  I had the perfect sized thin cardboard pieces that I had saved when I purchased a bunch of fabric fat quarters. I knew my inner hoarder would be appreciated one day.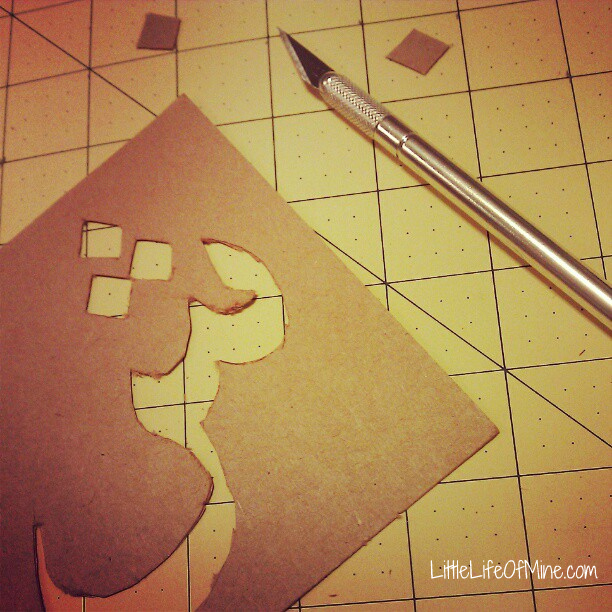 I placed the photocopied papers on top of the cardboard and used the exacto knife to cut out the letters.  When the first one worked perfectly, I held my breath.  As each letter after letter came out, it became harder and harder to conceal my excitement.  But still, I waited until the "Ya" was completely cut before I did my happy dance. 
I created my scallops and prepared them to be stenciled.  Again, the "Alif" came out lovely, but I didn't celebrate yet.  I worked my way slowly and carefully through each letter.  I finished off the last letter and stood back to appreciate how beautiful it came out.  I couldn't wait to sew it all together to see the finished product.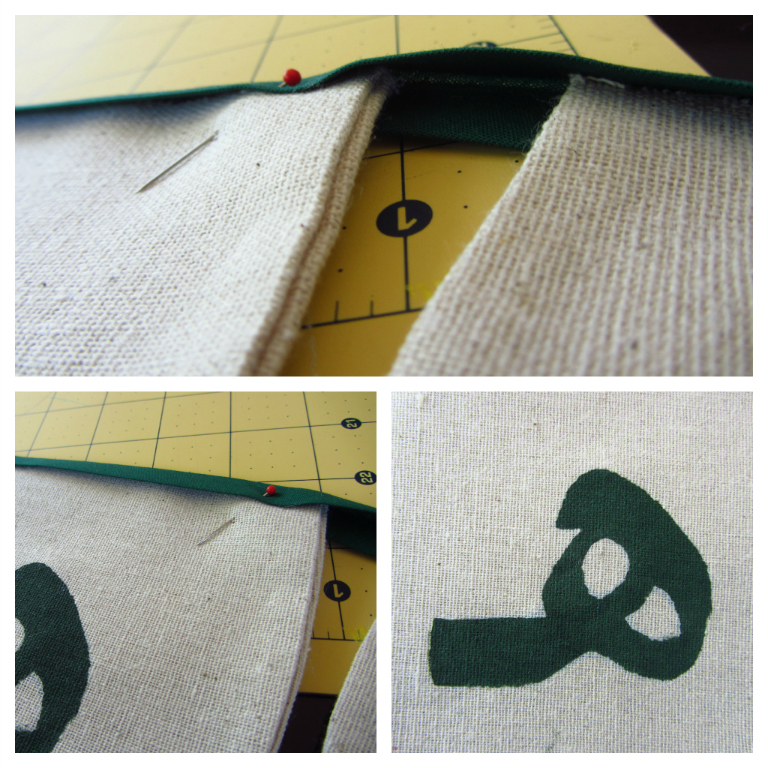 I channeled my inner Khadija through the entire process to make sure I was putting out my best work and producing the best quality these fingers could manage.
To my delight, the banner was placed front and center during the school play.  The Arabic teacher truly loved it which was a nice confirmation.