Did anyone make the peanut butter cookies from the first Bake Along post? Here's another recipe for you all that I think is worth a try. They're pretty easy to put together and the taste is quite good, especially with a glass of milk. These bars are a cross between a granola bar and a brownie. I made these (along with toffee crackle cookies, up next) for a family dinner, so I was glad that one batch made so many servings.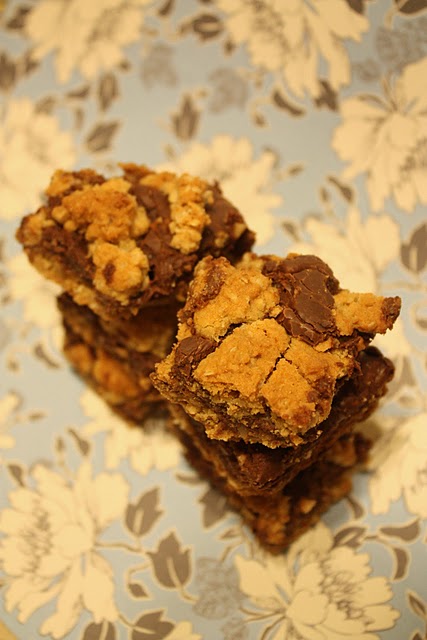 Chocolate Revel Bars (via Better Homes and Gardens 100 Best Cookies)
1 cup butter, softened
2 cups packed brown sugar
1 teaspoon baking soda
2 eggs
2 teaspoons vanilla
2 1/2 cups all-purpose flour
3 cups quick-cooking rolled oats
1 1/2 cups semisweet chocolate pieces
1 14 oz. can sweetened condensed milk (or the low fat version)
1/2 cup chopped walnuts or pecans
2 teaspoons vanilla
1. Preheat oven to 350 degrees. Reserve 2 tablespoons of the butter for the filling. In a large bowl beat the remaining butter with an electric mixer on medium to high speed for 30 seconds. Add brown sugar and baking soda. Beat until combined, scraping side of bowl occasionally. Beat in eggs and 2 teaspoons vanilla until combined. Beat in as much of the flour as you can with the mixer. Using a wooden spoon, stir in any remaining flour. Stir in oats.
2. For the filling, in a medium saucepan combine the reserved butter, chocolate pieces, and sweetened condensed milk. Cook over low heat until chocolate is melted, stirring occasionally. Remove from heat. Stir in nuts and 2 teaspoons vanilla.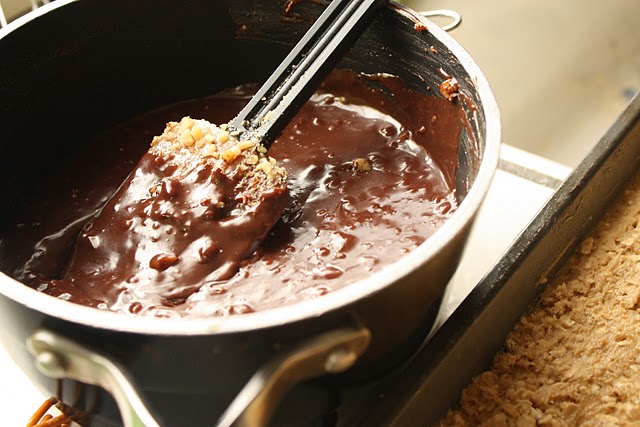 3. Press two thirds (about 3 1/3 cups) of the oat mixture evenly into bottom of an ungreased 15x10x1 inch baking pan. Spread with filling. Crumble remaining oat mixture evenly over top.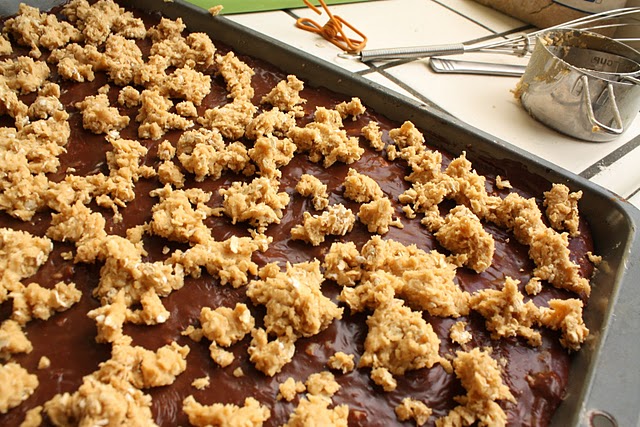 4. Bake in preheated oven about 25 minutes or until top is lightly browned (filling still looks moist). Cool in pan on a wire rack. Cut into bars. Makes 60 bars.