Eid decorations have come a long way, baby.  We are no longer limited to childish or tacky decor to celebrate our holidays.  It's also time to break away from re-purposed Christmas clearance.  I don't even have to make my own Eid decorations anymore because there is finally something available that suits my taste and style.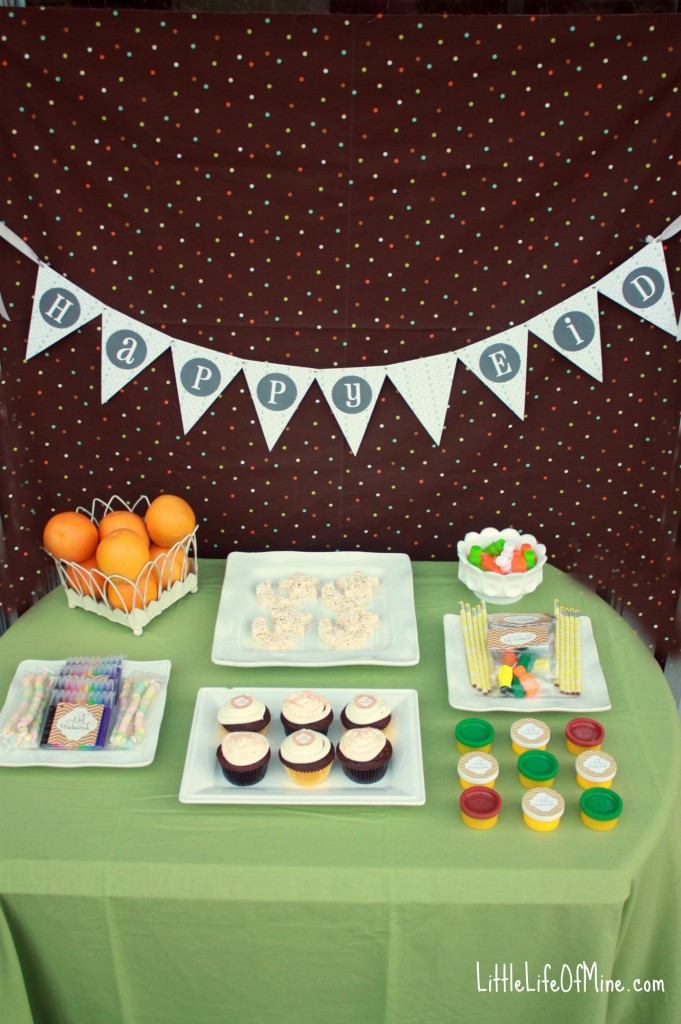 Hello modernEID, where have you been all of my life?  Stylish, chic, modern and exclusively made for Eid. 
I was so excited when I received my Eid Party Pack:  A decorative bunting, "Happy Eid" print, gift box, cupcake liners and edible toppers, candy bags, gift tags, and stickers.  Wooo! Party in a box!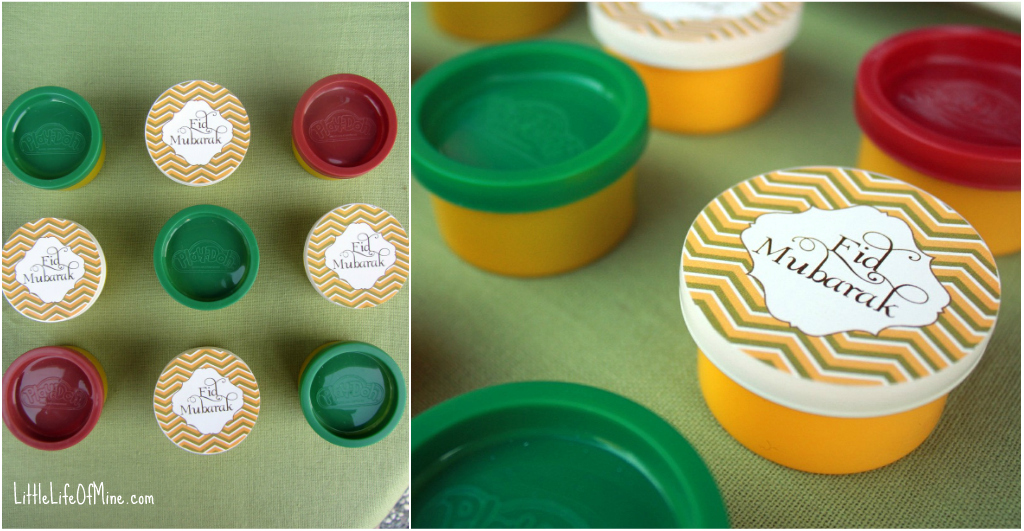 The products were much better quality than I had originally thought.  I suspected the products (bunting, print, tags) were simply scrap-booking grade card stock, but instead they are much sturdier and will last for many Eids to come.  The cupcake liners were really nice, especially the foil ones – pretty and strong.  Having never used edible cupcake toppers before, I was pleasantly surprised by how easy it was to instantly dress up my cupcakes.  I adored the round gift box. There were so many ways to go with it, but ultimately I decided on candy storage due to the wild popularity of modern candy buffets.  The Arabesque stickers were the perfect size to top mini Play-Doh canisters, instantly making them Eid treat bag ready. 
Don't be fooled by the incredibly affordable prices, the quality is all that and a bag of halal marshmallows.  ModernEID makes it so easy to have a stylish, magazine worthy Eid celebration with their modern Eid decorations.  I can't help but think if Amy Atlas became Muslim, these would be her go to products.
For updates and special offers, be sure to check out modernEid on Facebook and follow modernEID on Twitter.
Giveaway details:
Must be 18 or older.  Shipping is only available to US and Canadian residents. Giveaway is open from October 20 – October 26 (11:59 pm PST).
One winner will receive a Eid Party Kit (a $25 value) in the design of their choice (Arabesque or Mod). The Eid Party Kit will include:
1 decorative print
1 decorative bunting
1 table runner
1 set of buffet labels
1 set of dessert picks
How to enter:
Check out modernEID and tell me which line you would love to win – Arabesque or Mod. Also let me know what having a stylish, modern Eid decorations mean to you. (1 entry)
Like modernEID and This Little Life of Mine on Facebook. "I like modernEID & This Little Life of Mine on Facebook."  (1 entry)
Be sure to check out my fellow American Muslim Mom Contributors' blogs for additional chances to win! 
One grand prize winner at American Muslim Mom will be chosen from all of the blog post comments from all of the above listed sites, including mine.  The grand prize will be a $50 gift certificate for the modernEID products of your choice!
Good luck!  May your next Eid be a chic and modern one.
I received products to review and use in the creation of this post. I am writing this as a part of a collaboration with American Muslim Mom Media Network. All opinions and reviews are my own.