I love when Eid rolls around and it's time to pick out gifts for the kids in our family.   This year, one family had moved away while another family moved back to California.  The number of kids remained the same but the age groups were dramatically different.  Instead of four children under the age of seven, we have four children over the age of ten. This posed an exciting new challenge of finding age appropriate gifts that they would like.
Since this particular family had lived away from us for so long, I had no idea what the girls likes and dislikes were.  At a family iftar – Ramadan dinner – one night, I decided to just flat out interview them.  As 'tween girls I had an idea of what direction I wanted to go with their gifts, I just needed a little insight on their favorite things. A peek into their rooms also gave me a couple of clues to their personalities.
While I was taking notes on their gifts, I decided to get some feedback from the rest of the kids on what types of gifts they would like to receive this year.  Seriously, if you are ever stuck on what to get a child, just ask them.  Some were very specific listing "sharks, whales, and ships" while another just kept answering "pink".  I also noted every one's favorite candy or snack.  I figure since it's the Eid they deserved an extra special treat.
As a group, we all purchase gifts for each of the kids on Eid.  We all set a particular budget for ourselves.  I like to stick to $20 per child.  While it gets pricey especially when everything is purchased at one time, my husband and I like to make the Eid a special and exciting time for the kids.
"Sharks, Whales, and Ships" Eid Gift Set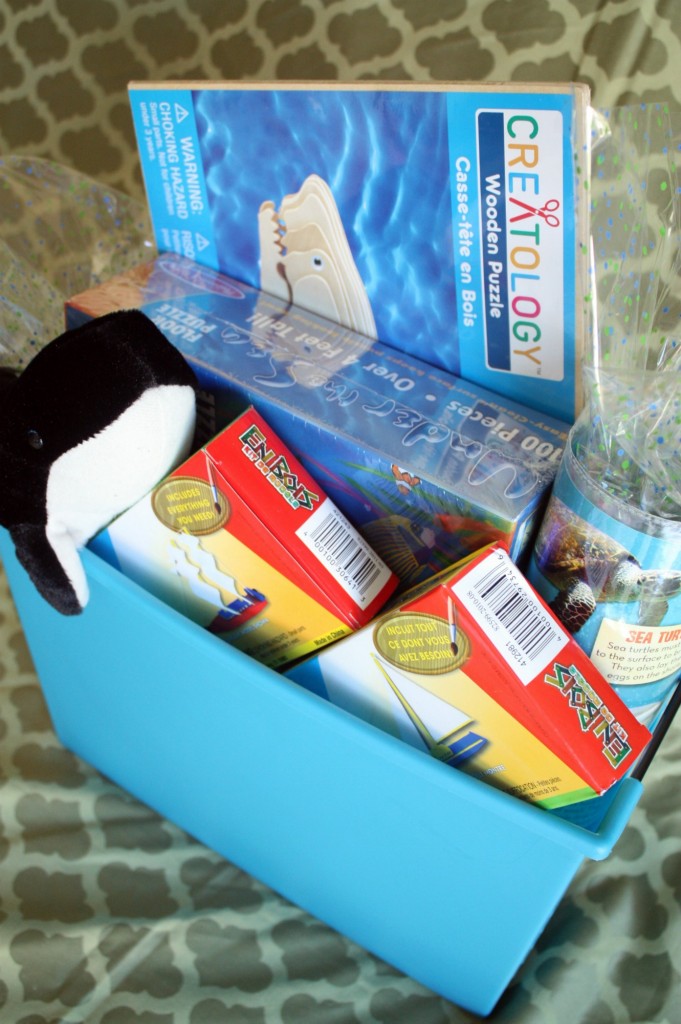 I found majority of the items for this set at Michael's unless otherwise noted.
Giant under the sea floor puzzle – used my 40% off coupon
Shark skeleton wood puzzle
Two paint and build yourself ships
Sea creature facts place-mat
Stuffed whale – Dollar Tree
Fave snack: Fruit snacks – tucked inside of the rolled place-mat
"Gift box" Blue magazine holder – Big Lots
Budding Artist Eid Gift Set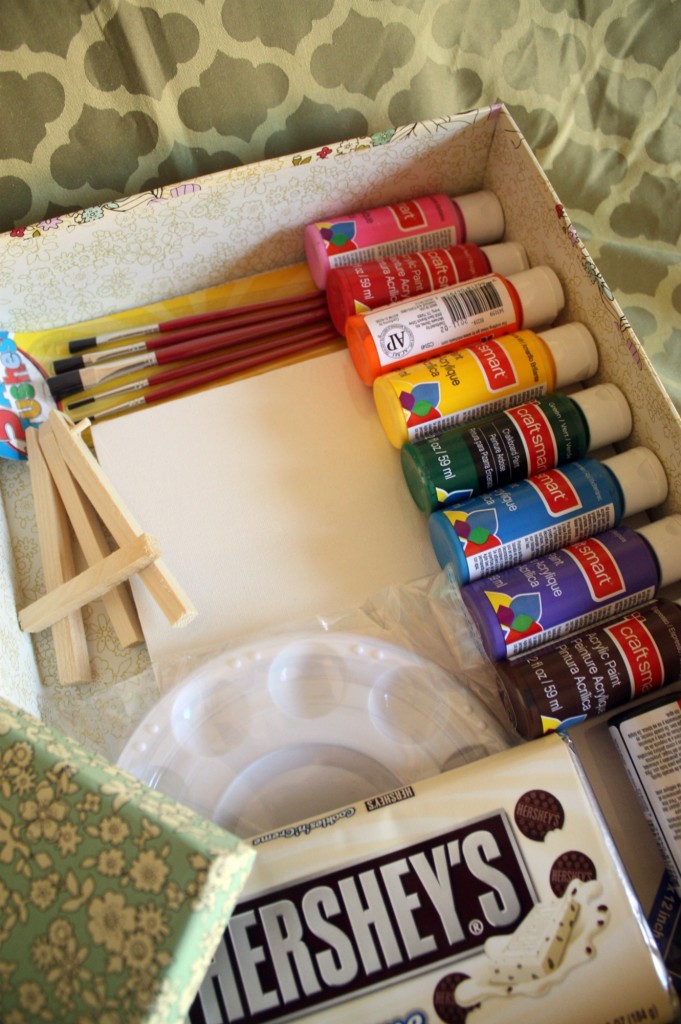 This recipient was very clear that she wanted anything and everything to do with art, specifically painting.
Set of 3 flat canvases – Big Lots
10 craft paints – Michaels
Mini easel – Micheals
Paint tray – Michaels
Sketch pad – local dollar store
Paint brushes – Dollar Tree
Fave candy: Hershey's cookies 'n cream
"Gift box" Cute storage for supplies – Ross
Pink Eid Gift Set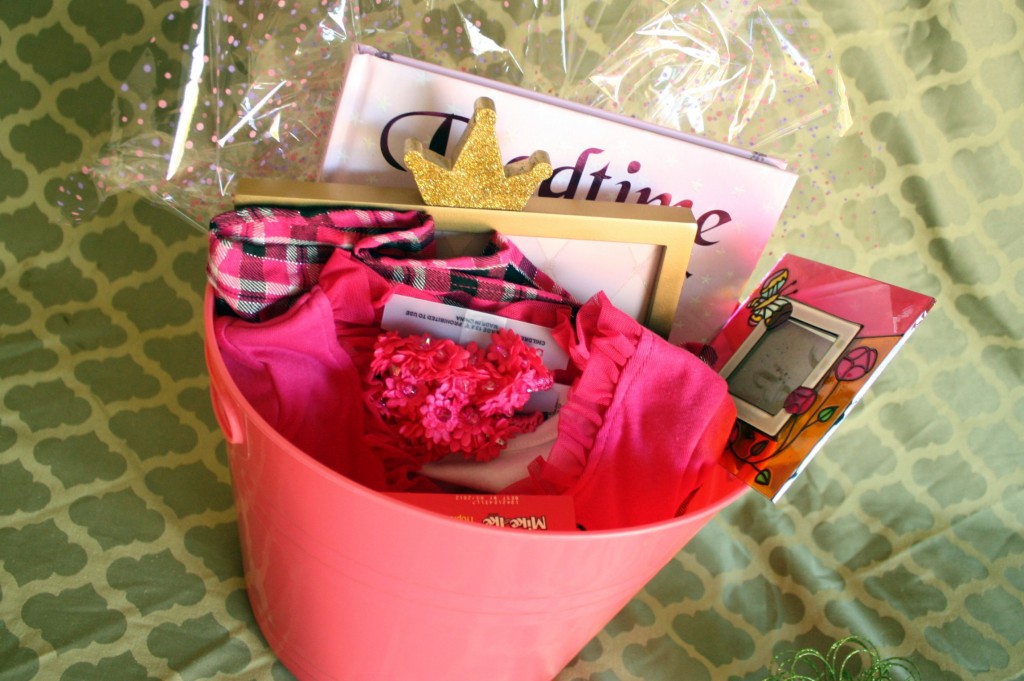 When asked what she likes, she answered "pink".  When asked what she wants, she answered "pink".  Needless to say I didn't need to ask her favorite color.
Pink dress – Ross
Pink frame with gold crown – Ross
Pink glittery bedtime stories for girls – Ross
Pink mini frame – local dollar store
Pink flower and bead hair ties – local dollar store
Pink Mike and Ike candies
"Gift box" Pink plastic tub – Rite Aid
Tween Girls Eid Gift Set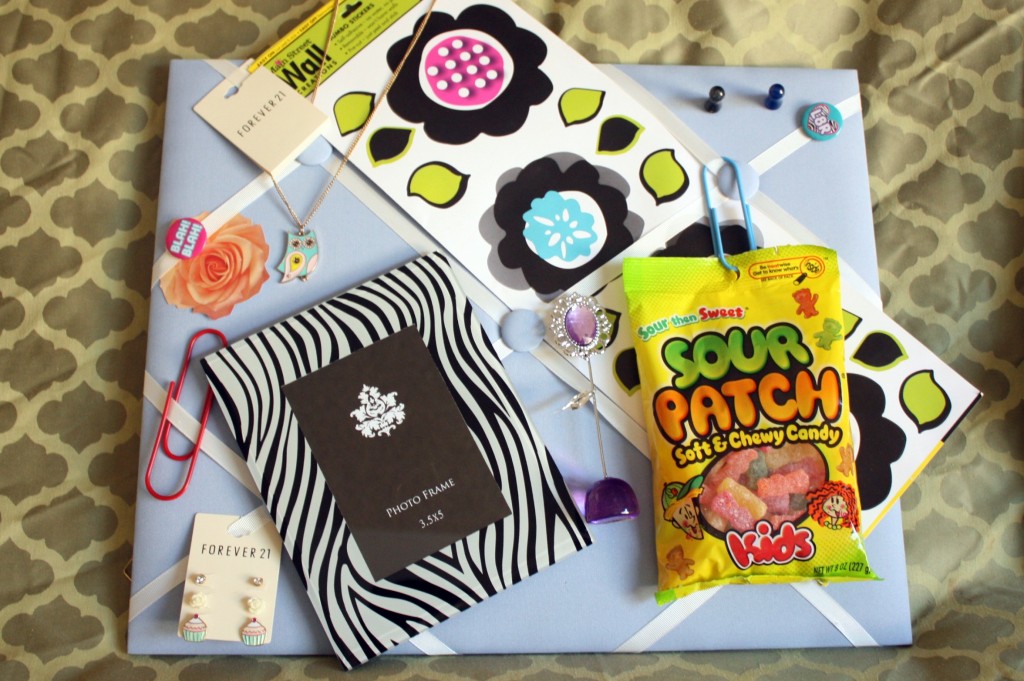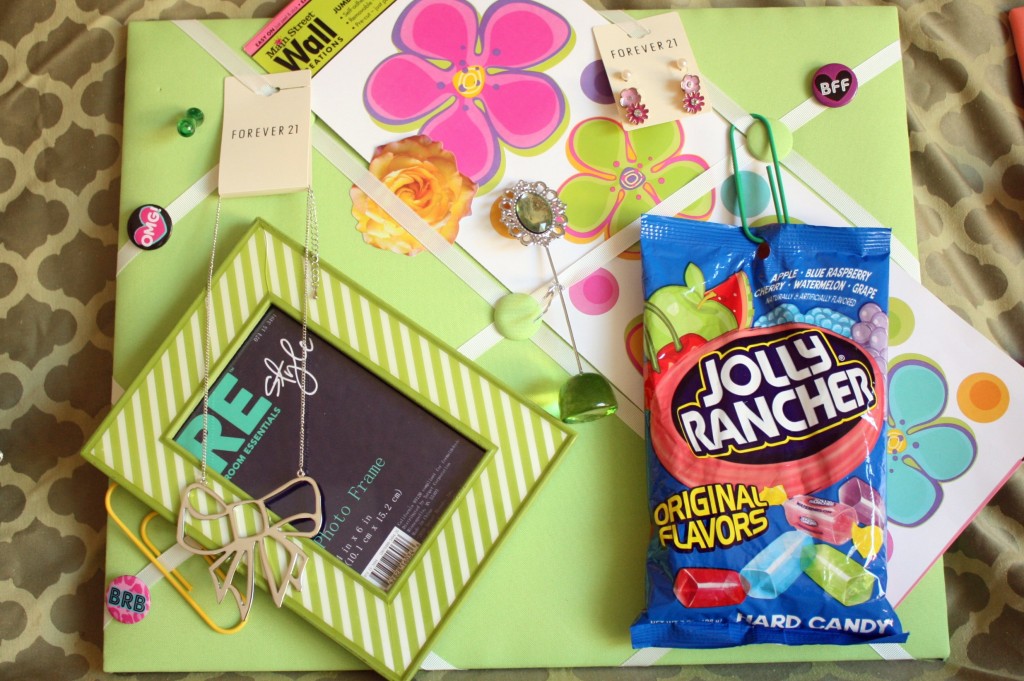 I think these were by far my favorite to put together.  They were a lot of fun to shop for and the girls loved them. Yay!  In one of their rooms they had a single thing posted up on the wall, so I wanted to give them a place to put their notes and magazine clippings.  They also had a ton of pictures on their headboards so I wanted to provide a place to display photos too. Since these were given to sisters, I kept the sets similar but custom to each girl's personality.
Padded bulletin boards – Michaels
Text message lingo buttons – Michaels
Wall decals (two sets each, one design, one with letters) – Dollar Tree
Jewel photo clips – Ross (came in a set of 4)
Necklace – Forever 21
Set of Earrings – Forever 21
Zebra frame – Ross
Striped green frame – Target
Pink floral frame (previously ivory, thank you spray paint) – Target
Giant paper clips and push pins – local dollar store
Fave candy: Sour Patch Kids and Jolly Ranchers
There was another gift set but I didn't get a picture of it.  The girl had requested all things Tinkerbell.  At the Disney store I found a few great items, all on sale, including an artist set that came in a reusable plastic case, a big bowl with removable dome that I filled with Hershey Kisses (her fave candy), and a sparkly place-mat that could be hung in her room if she wished.
I'm really happy with the way everyone's gifts turned out this Eid.  Not sure how I'll top the tween gift sets in a couple of months for the next Eid.  Just might have to start brainstorming, and do a little bit more interviewing, from now.