So I guess I can check "make a pinata" off of my life's to-do list.  The fact that it was ever on my list I can entirely attribute to my hero Jordan Ferney.
Looking back I can't remember whose idea it was to make one for our family Eid barbeque.  In the midst of assembling the pinata, I'm certain it wasn't mine.  Once it was complete and filled, I took total credit for the idea.  Of course.
It's true, I can be obnoxious like that.  Sometimes.
So, if you feel so inclined to ever make one yourself, here you go:
You'll need:
Cardboard.  I found pizza boxes to be the perfect strength.
Box cutter.  Scissors aren't going to cut it. (Ha! Get it? Okay I'll stop)
Masking tape
Tissue paper
Glue
Twine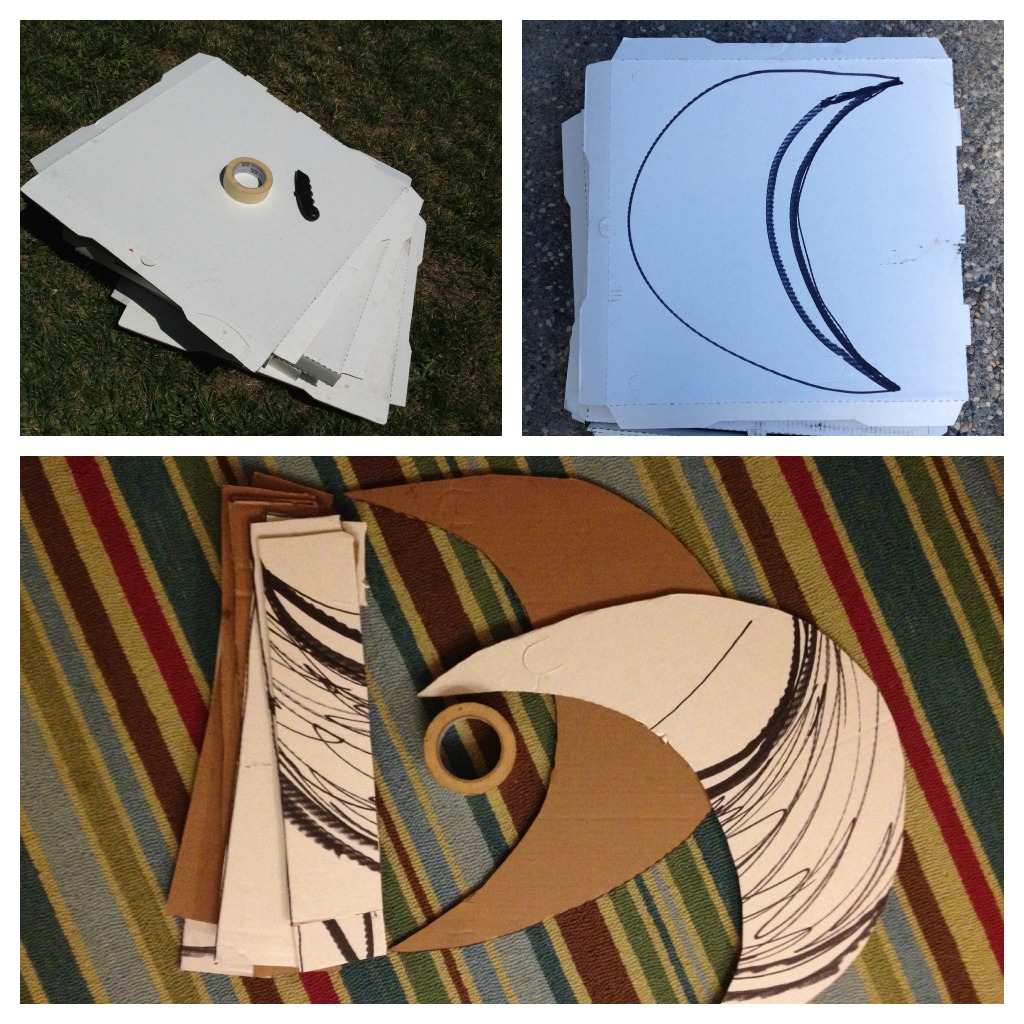 1.  Draw out your crescent moon. Cut two as evenly as possible.  Once you have your main shape, cut strips of 4-5 inch wide rectangles.  These will be the pieces to build out the moon and attach the two pieces together.
2.  With your first shape on a large flat surface, attach the strips along the edge of the main shape with masking tape. Rolling the rectangle strips will allow it to curve with the rounded shape of the crescent. Repeat with the second piece to close the pinata up. Remember to attach your twine before completely sealing it up.  To reinforce the pinata, I taped it entirely from the inside and outside.  It was a happy accident that the steam slots on the pizza box ended up at the top of my pinata.  I used it to fill the candy into the pinata.
3. Fringe 3 inch wide strips of tissue paper.  You need a lot.  I didn't count.  I used a huge package and fringed the entire pack.  Many strips will rip while adhering them to the pinata.  Also, you'll need to do multiple layers so that the pizza boxes and tape don't show. Starting from the bottom, glue down the strips.  As you move up, slightly overlap the strips.  I don't have any precise instructions after that.  Just cover the entire thing.  I wasn't going to perfection.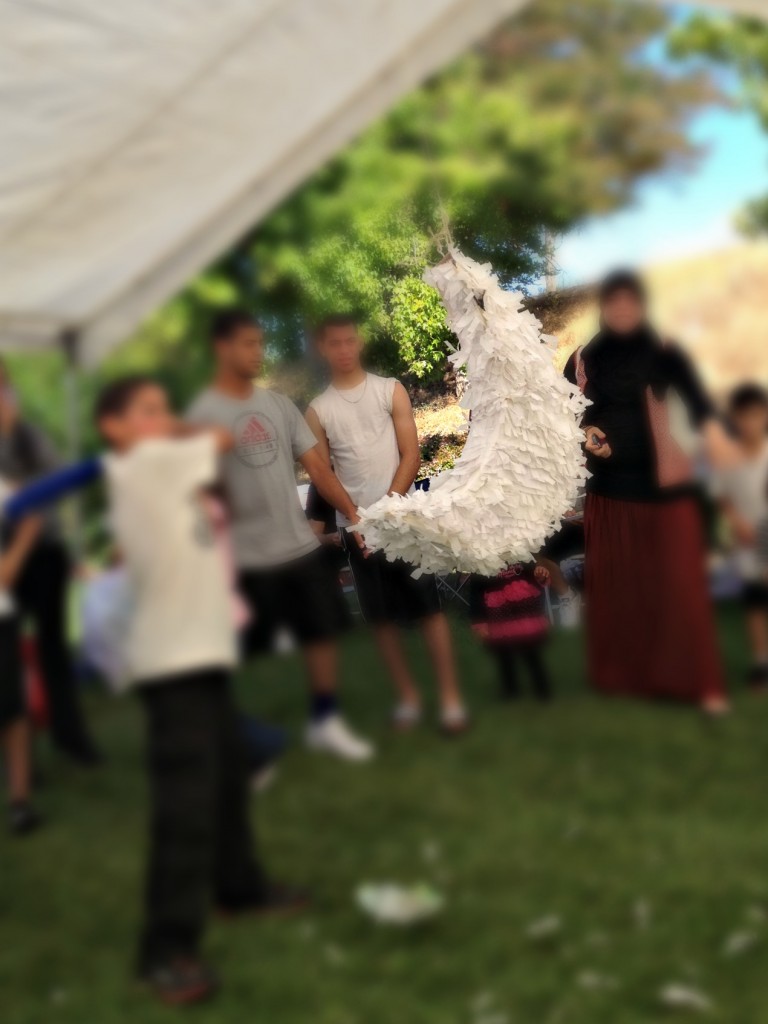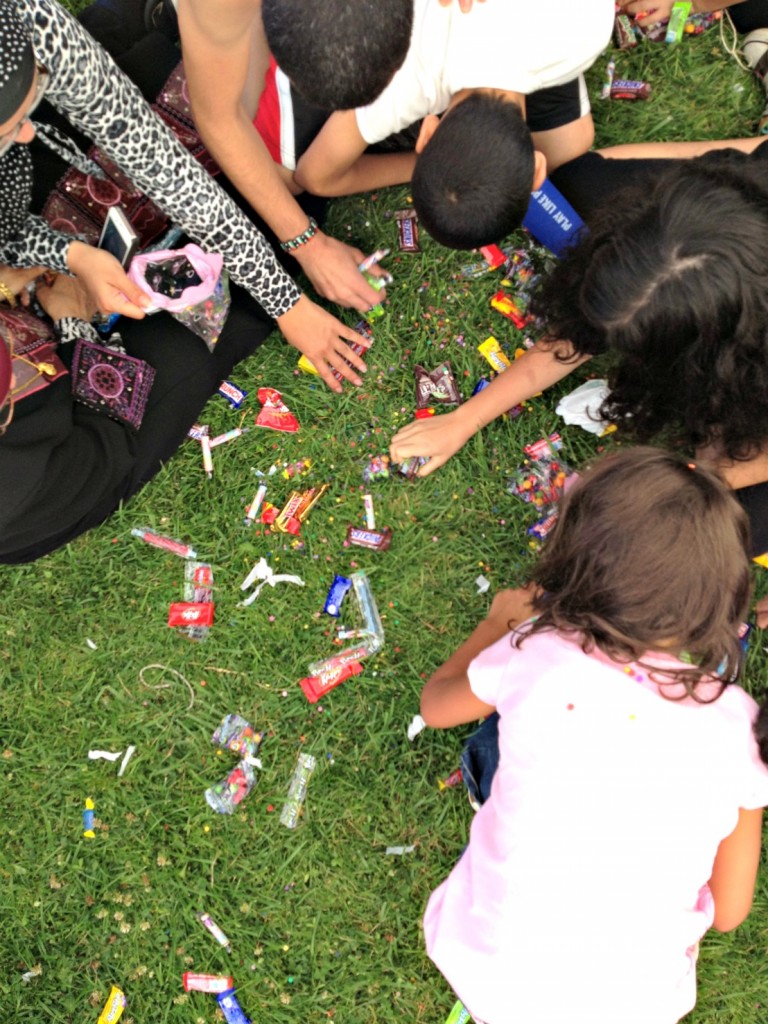 If you ever make a pinata, remember to mention it was my idea.
{Have you all caught on to my sarcasm yet?}