With Eid just a few days away I was hoping to make a handful of new recipes from the magazine and share them here with you. But something more important has come up that I need to tend to. I will still make cookies for the Eid, just not in time to post here prior to Tuesday. For now, please consider any of the following that I have saved via foodgawker.
Best Ever Biscotti – posted on Edible Moments. Doesn't everything look better drizzled in chocolate?
Iced Sugar Cookies – posted by The Decorated Cookie. My goal is to make iced stars and crescents.
Almond Roca Cookie Bars- posted on Itsy Bitsy Foodies. This one speaks for itself.
Ma'amoul – posted on Food Bridge. It's just not Eid without Ma'amoul.
Chocolate Dipped Coconut Macaroons – posted on Brown Eyed Baker. Always a crowd favorite.
Almond Butter Horn Cookies – Posted on Cafe Nilson. Wouldn't these be great with tea or coffee?
Chocolate Salted Caramel Cupcakes – Posted on Everyday Occaisions. Uhhh… Yum!!
Eid Cookies from Singapore – posted on Epicurean Escapism. Love the way she packaged these.
Almond Cookies – posted on The Girl Who Ate Everything. These look so tasty and I can totally relate to the blogs name. So cute.
Cupcakes from the last Eid.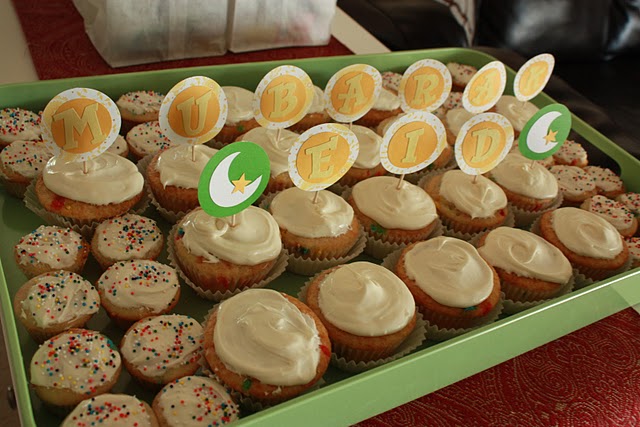 Cupcakes and Eid bags all ready for the kids.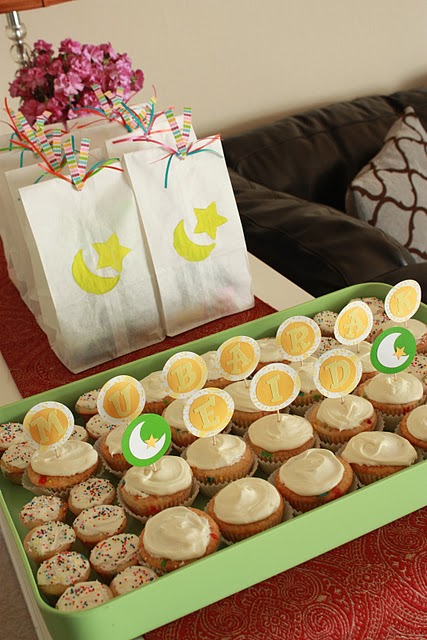 Sharing a treat with Jenin. Eid is the only time I allow her to indugle with reckless abandon.