When it comes to giving gifts, I become a bit of a nut. No matter how hard I try, I just cannot walk into a store, quickly pick something out, pay and leave. It takes me forever as I go through each aisle examining all the choices, trying to take into consideration the age, likes (and dislikes), and practicality of each item. I try to imagine my child as the recipient; will this be too many pieces that I'll find scattered all over my floors? Is this toy too "old school" for the computer/wii/batteries-in-every-toy generation? I always avoid toys that need batteries. If it needs batteries it typically doesn't require too much imagination from the child's part. Plus those toys get so annoying after hearing the same song over, and over, and over, and over, and… I also can't bring myself to purchase something I wouldn't want for my own child. Certainly different people have different tastes, but if I wouldn't want it in my own home, I won't throw it upon someone else.
That being said, I faced an interesting challenge this Eid. I had to put together gifts for a set of children that have a lot and a set of children that have a little less. Two very different situations with two unique solutions.
For the first set, I went with a gift that I knew their mother wouldn't typically buy them. One of those items that she might think is cute, but end up passing by. The kids love cookies (who doesn't?) and love to help their mom to bake so I knew these would be perfect for them.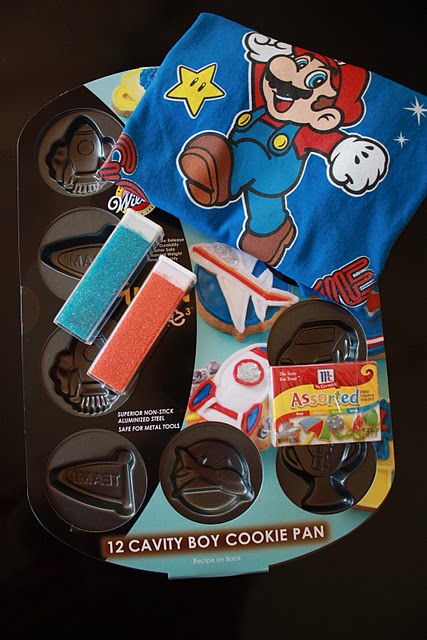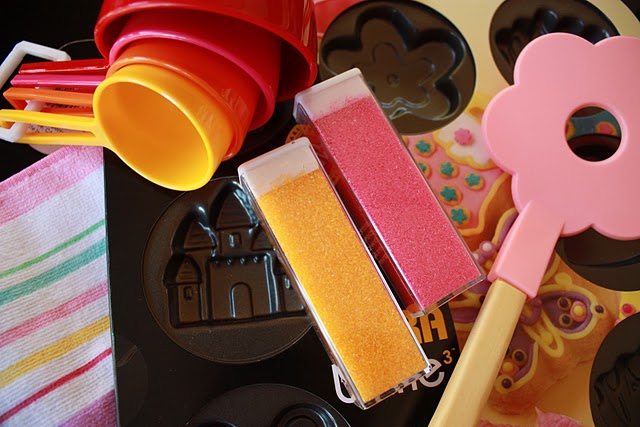 Boy and girl themed cookie pans. How fun are these? I wanted to try to make it as fun as possible so that the kids wouldn't be put off by receiving household items. Colored sugars, bright measuring cups, a fun shaped spatula, food dyes. I found a tea towel with cute pom-pom fringe that I turned into an apron for the little girl. Pretty sure the boy wouldn't care for an apron, I stuck with a t-shirt of his all time favorite hero. I shopped around months in advance putting these together and got a great deal on all of the items.
For the other set of children, I wanted to make them something special. Something that I was sure they would enjoy. I decided to make them
reversible tote bags
. The fact that they doubled as the actual gift bag is just an added bonus. Since the little girls are sisters, I gave them very similar gifts in different colors so that there wouldn't be any jealousy.
A Barbie (their favorite toy), a jump rope (every girl needs one), and a crafty kit. And of course the bag.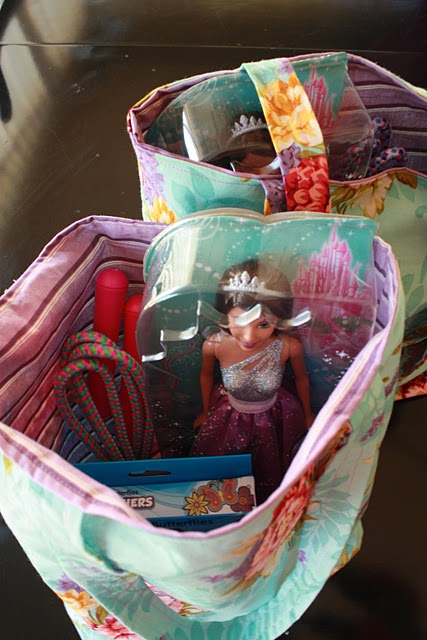 These were by far my favorite gift. The bags were truly special. I chose fabric that was girly but sophisticated in the eldest girl's favorite color. I took extra care while sewing them to make sure they would last a long time.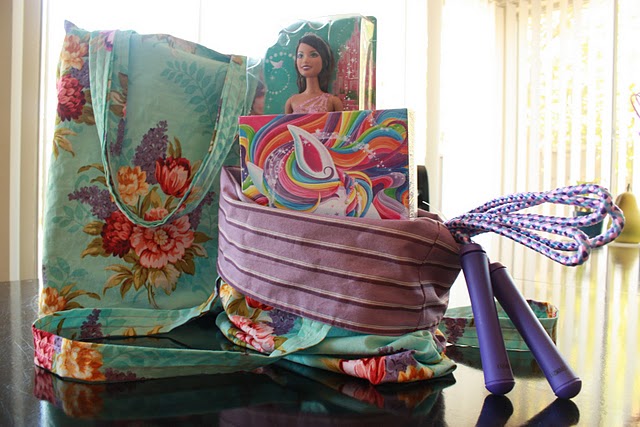 The reaction of the girls was incredible! To see children so appreciative of their gifts truly touched my heart. They must have thanked me at least ten times throughout the course of the day. With the biggest twinkle in her eyes, the ten year old told me that she was going to use it everyday for school to carry all of her extra books. The sweetest part was after all the children had gotten over their new gifts and scattered through the house, one of the girls was sitting in the corner of the living room by herself looking at each of the items over and over again. Rearranging things in the bag just so. Running her hand over the flowers on the outside of the bag. I'm telling you, it was beautiful.
As for my little munchkins, J got a bike and a bride softie (the girl is obsessed with weddings), while Baby Monster got a baby Belle (J's favorite princess) and a toy camera. Yes, it includes batteries. I bend the rules sometimes.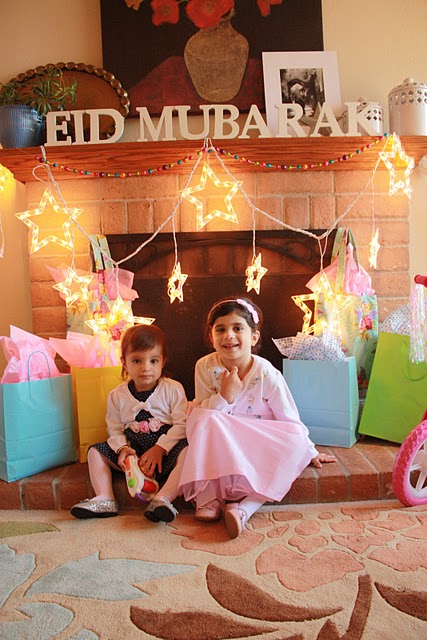 Eid Morning