J loves hopping and jumping.  She'll jump from area rug to area rug in the kitchen. She jumps on her bed. She bounces off the walls.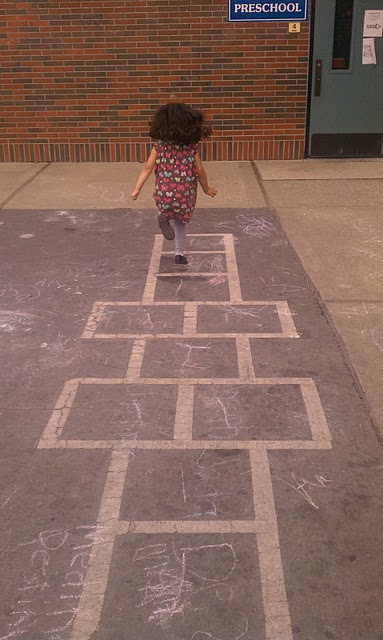 via my cell phone – September 2010

I've been wanting to make her a hopscotch rug out of one of the old runners I have in our hallway but haven't found the time to get started on it.  While sorting through some old scrap booking stickers, I found some square stickers that I decided to hold on to despite not ever using them before.  I figured Jenin could always play with them when I need her to sit down for some quite art time.
Well just last week, a hopscotch image popped up on TV and I instantly found a use for those unused square stickers.  Seriously, inspiration hits at the most random times.
So I gathered up my supplies and got to work.
A frame that I've had for years and years, white card stock (or any color you want), square stickers, white vinyl signage stickers.
Well, when I sat down to start I wasn't feeling the colors of the square stickers and the numbers were too large to fit in a way that I liked.  Moving on to plan B.
Reassembling of the supplies: Large square craft punch, card stock in Jenin's favorite rainbow colors, and a rounded edge cutter.
The squares were too large to fit as is in the mat's 8×10 opening. (I didn't have paper large enough to use without the use of the mat.) There would have only been about 5 squares and I wanted to include as many as possible.  So I cut them down.
Then I rounded them off.  Love this little tool.
Then I placed the numbers on.
Then glued them down in the easily distinguishable hopscotch manner.  I loved how the colors popped off of the white, but I didn't like the white mat on the white card stock.  So I painted it a sky blue.
Isn't it adorable?  I think so.  It took less than half an hour to complete.  Love quick and easy projects.
Want to create your own? Hop to it!  (sorry that was corny)