There's something about foodgawker that makes me want to cook and take pictures of the process. Maybe it's the fact that when I see a lot of those amazing pictures, I think to myself: "I can so do that." Okay well, a lot of times, I can't. However, I love to cook and I love photography. I don't think I'm very good at either but I still love to try.
I keep coming across
this recipe
in magazines and have been dying to make it because it looks
soooo
good in the picture. Now I'm not exactly a huge fan of tomatoes so it confuses me as to why I crave it so badly.
Jenin and Rami can finish those 2lb clamshells of cherry tomatoes from Costco in a single day. So weird. I wonder whose team Maysoon will be on?
The recipes calls for plum tomatoes but I hardly ever follow a recipe exactly. I used cherry aka grape tomatoes.
I can't lie, they do look good. They looked even better coming out of the oven. Of course J and Maysoon decided to each be super needy at that precise moment. So needless to say, no pic. By the way, three minutes into roasting them, you could smell it. And it smelled goooood. Am I sure I don't like tomoatoes??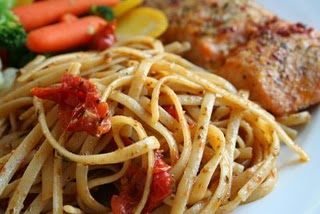 It came out okay. Didn't taste anything like the way it looks in the recipe. Does that make sense? It does in my head. Maybe I should have actually followed the recipe. I ended up adding a tablespoon of pesto to add some more flavor. I will make it again though. At least the salmon was delicious.
Ingredients:
2 pounds medium plum tomatoes (10-12), halved lengthwise
1/2 cup olive oil, divided
2 cloves garlic, minced
1 tbsp Italian seasoning
1/2 crushed red pepper (Iman, you'll want to keep this out.)
1/2 tsp. sea salt
1/4 tsp. black pepper
8 ounces pasta
Directions:
1. Preheat oven to 400°F. Place tomato halves, cut-sides up, in foil-lined 15x10x1-inch pan sprayed with no stick cooking spray. Mix 1/4 cup of the olive oil, minced garlic and seasonings in small bowl. Spoon over tomatoes. Drizzle with 2 tablespoons of the remaining olive oil.
2. Roast 45 to 60 minutes until tomatoes are soft and browned on top.
3. Prepare pasta as directed on package. Drain well. Place 1/2 of the roasted tomatoes and remaining 2 tablespoons olive oil in large bowl. Coarsely mash tomatoes. Add pasta and remaining roasted tomatoes; toss to mix well. Sprinkle with shredded Parmesan cheese and additional crushed red pepper, if desired.