My sweet, stoic Baby Z turned one!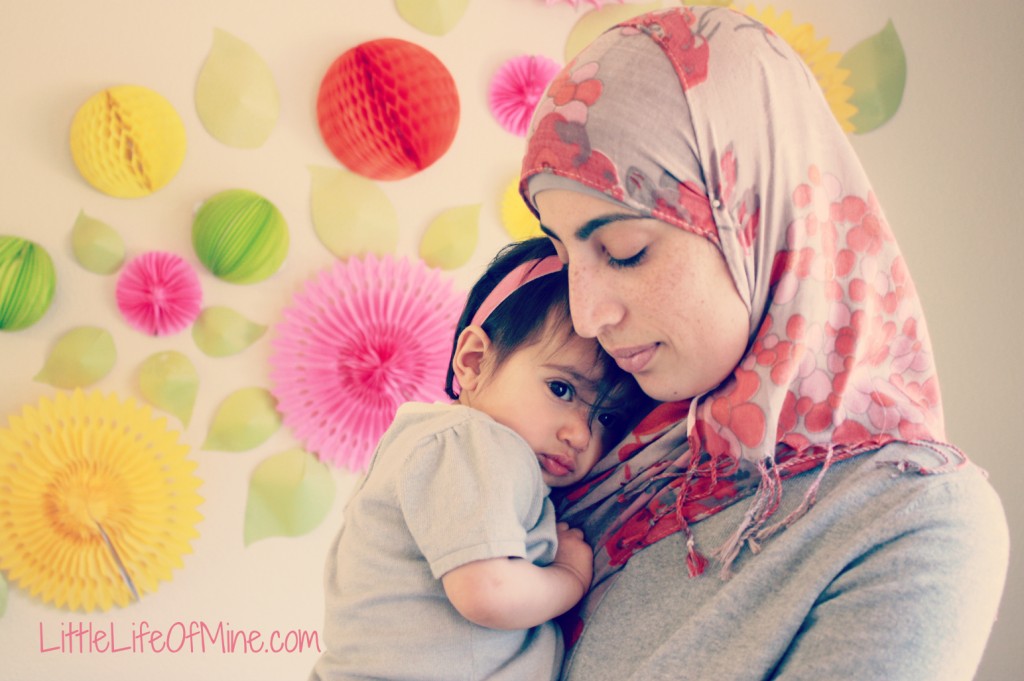 I can't help but celebrate each girl's first birthday because it's such a special milestone.  The girls have no idea what was going on, but years later, they've looked back on those parties and enjoyed seeing the festivities.  For Jenin's first, we had just moved into our old house, not even fully unpacked and barely furnished.  It was my first venture into baking, making 9 different kinds of cookies.  All the day before. I still have the burns on my arms to prove it.  I very quickly learned the dos and (many) don't of a successful party.  Maysoon's monster bash was a major momzilla moment.  I went all out with homemade games, decor, and of course desserts.  It was really fun and creatively satisfying to bring it all together, but I decided that was too much for a first birthday.  Never again. Maybe.
The fact that we wouldn't celebrate Zaynab's first birthday in the home she was born in and the home her sisters celebrated their first birthdays in, wasn't lost on me.  It reminded me how many memories we had in that home and how much of an attachment I had to it.  However appreciative I was to be in a new house, my mind would sway back to those thoughts.
I decided to push those those feelings away once and for all by focusing on the blessings that God bestowed on us.  So what if I couldn't celebrate in the home she was born in? It's Baby Z that was special and we got to take her with us!
The theme of the party was on the many blessings we all have in our lives and spreading that on to others.  I kept everything very simple.  The only decorations was the feature wall behind the table.  I found it via Pinterest half a year ago and instantly fell in love.  I dreamed of doing it in the girls' room but the dust factor kept me away.  It turned out to be the perfect backdrop for Z's party.  It seriously made me smile every time I looked at it.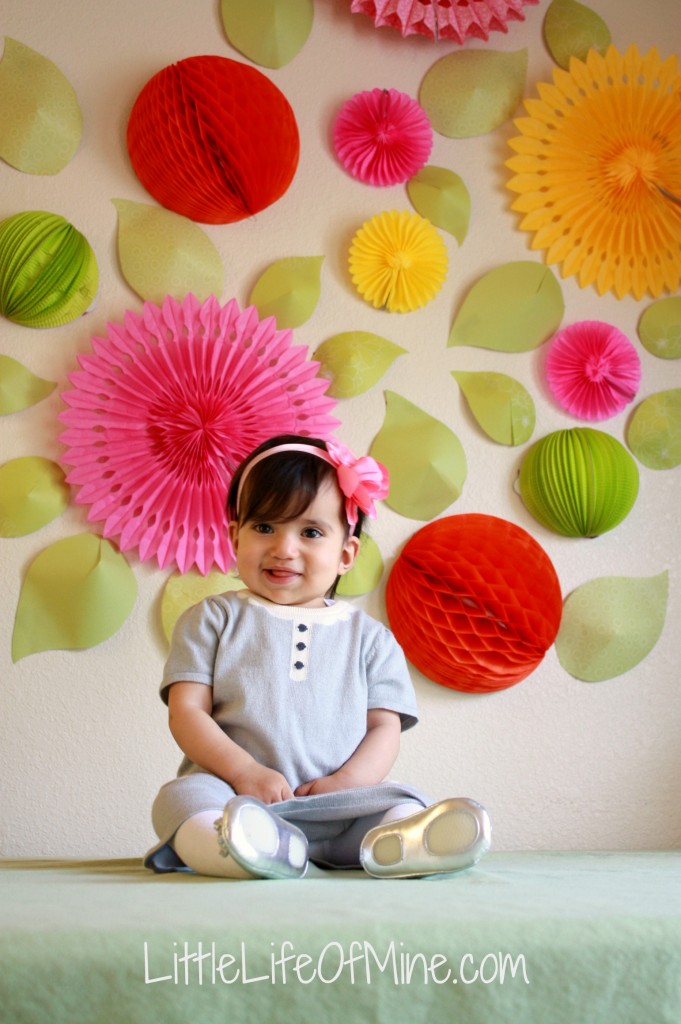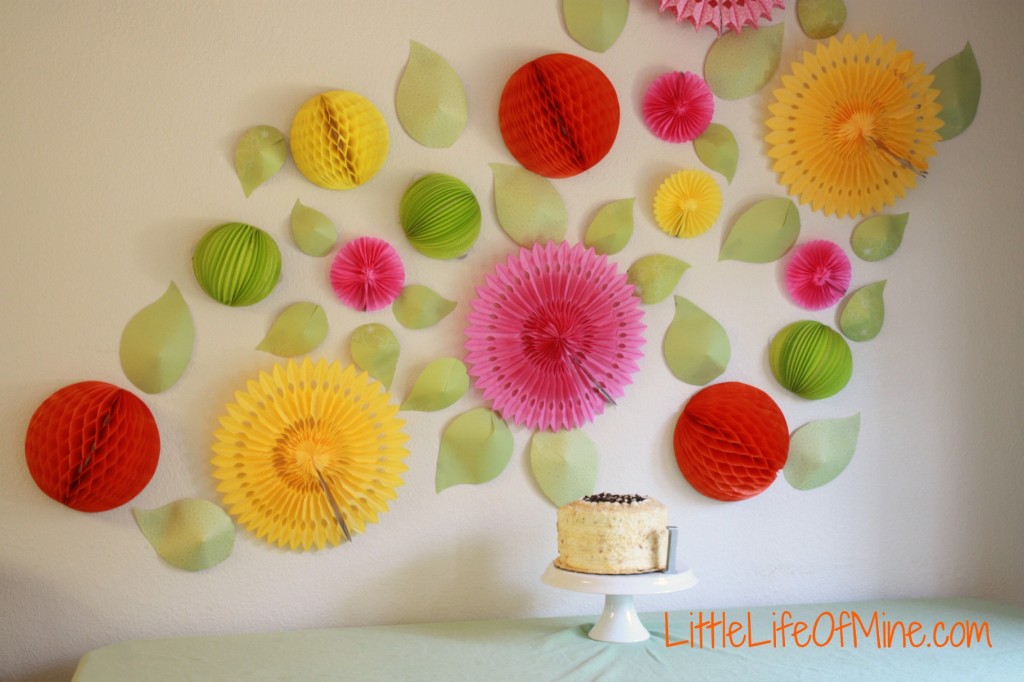 Guests were asked to bring donations for specific charities in lieu of gifts.  At one year old, she doesn't care much for presents.  She also has all of her sisters' toys from their younger years.  I requested new or gently used outerwear for the organization One Warm Coat, which gives jackets and sweaters free of charge to those who need.  Hijab and scarves were also a possible donation.  Those would be donated to Muslimahs Covered With Care which sends care packages filled with hijabs to converts and women who can't afford to purchase new scarves.   Lastly, monetary donations were accepted to put towards the orphan fund of Islamic Relief.  I was so thrilled to have collected dozens of coats and hijabs plus nearly $200 for Islamic Relief! My guests were the best!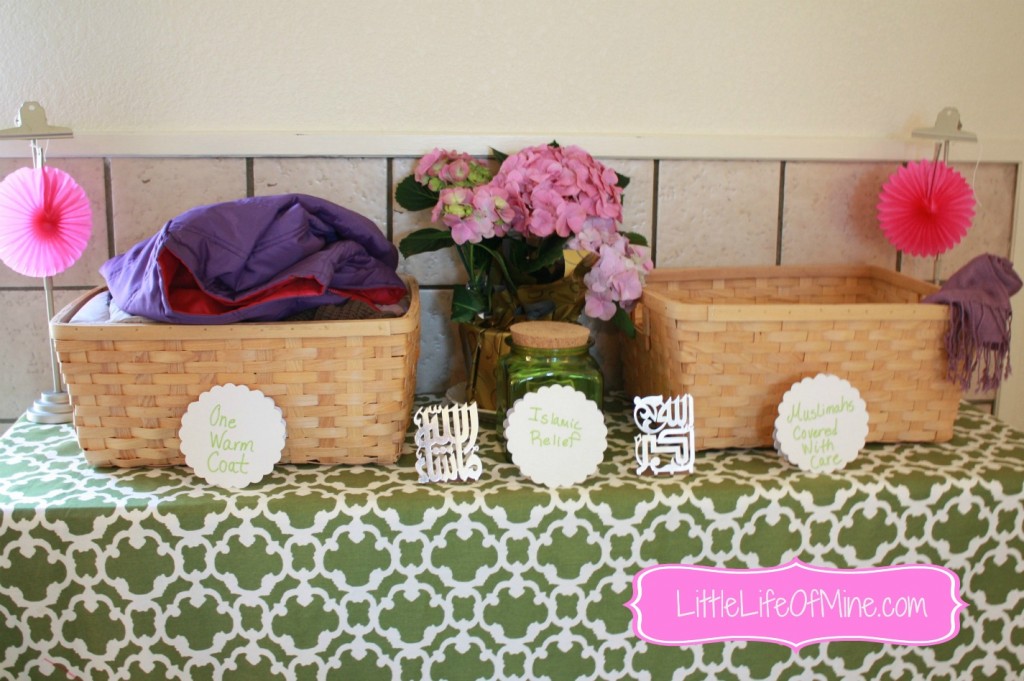 Keeping with the theme, I decided on crafts that focused on giving back and kindness to others. Crafts included fleece knot blankets to donate to a local shelter, coloring pages turned cards for loved ones, and sadaqah (or charity) boxes.  I had intended to include pine cone bird feeders to extend the gestures of kindness towards animals as well, but the weather was too cold to complete the craft outdoors.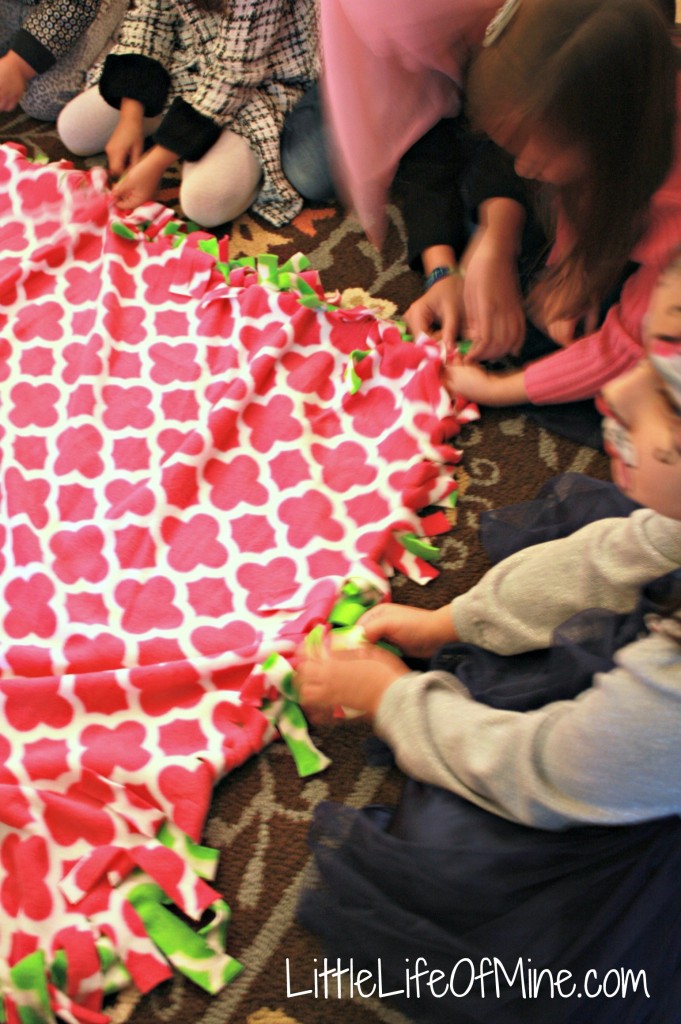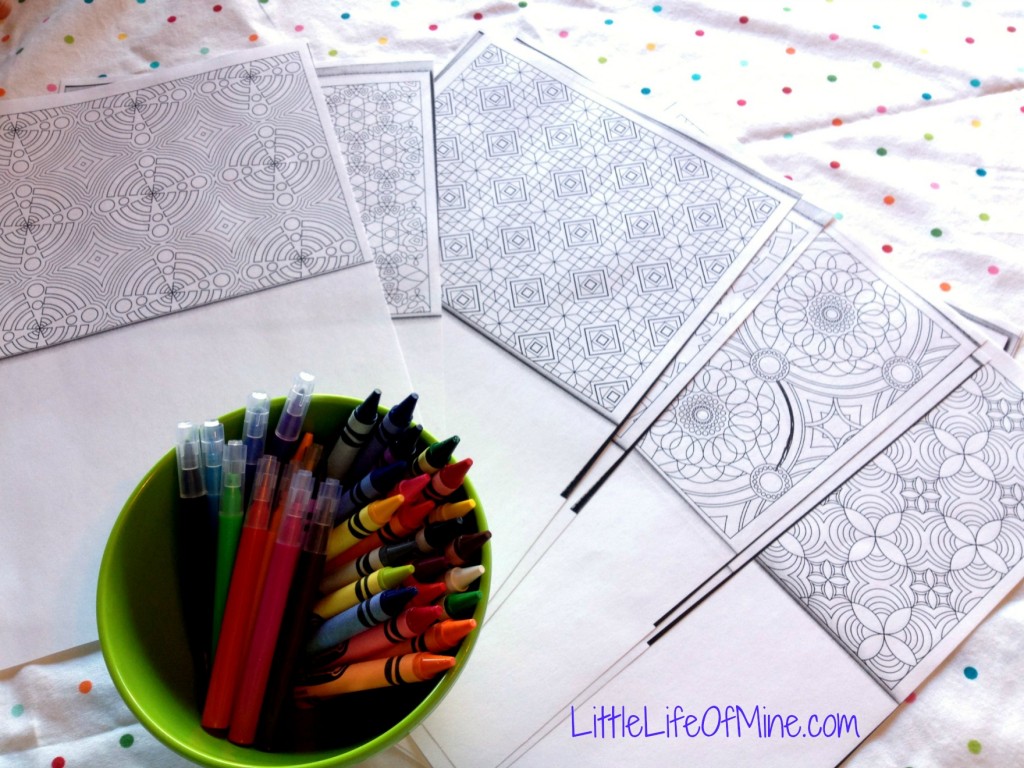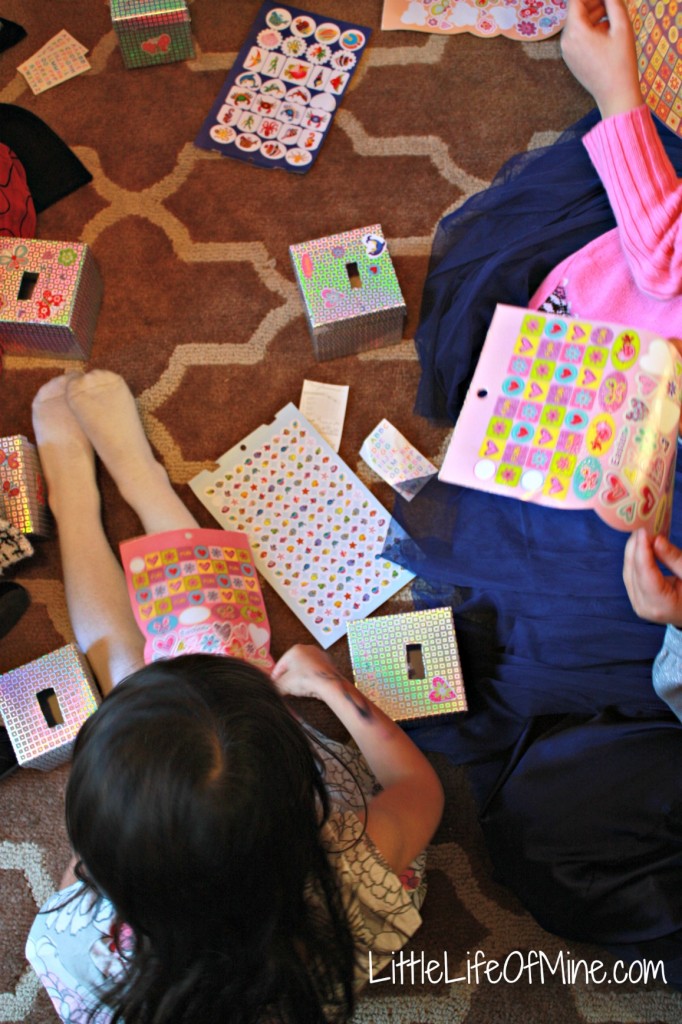 Lunch was pizza from a local Muslim owned business.  Again, passing on the blessings! I can't believe how relieved I was by not cooking and just ordering pizza.  Dessert on the other hand was all homemade.  I love to bake and wanted to continue the tradition that I started for Jenin's first birthday.  The dessert table consisted of mini chocolate chip cookies, mini cinnamon rolls (not this recipe, but loved including them because of the link to bringing lil Z into this world), rice cripsy treat "1"s, magic layer bars, coconut macaroons (made by my BFF), chocolate biscotti, homemade vanilla cupcakes, and baklawa cheesecake.  I also made the Nescafe cake but with the abundance of dessert, decided to save it for a special someone's birthday. Just keep passing on the blessings!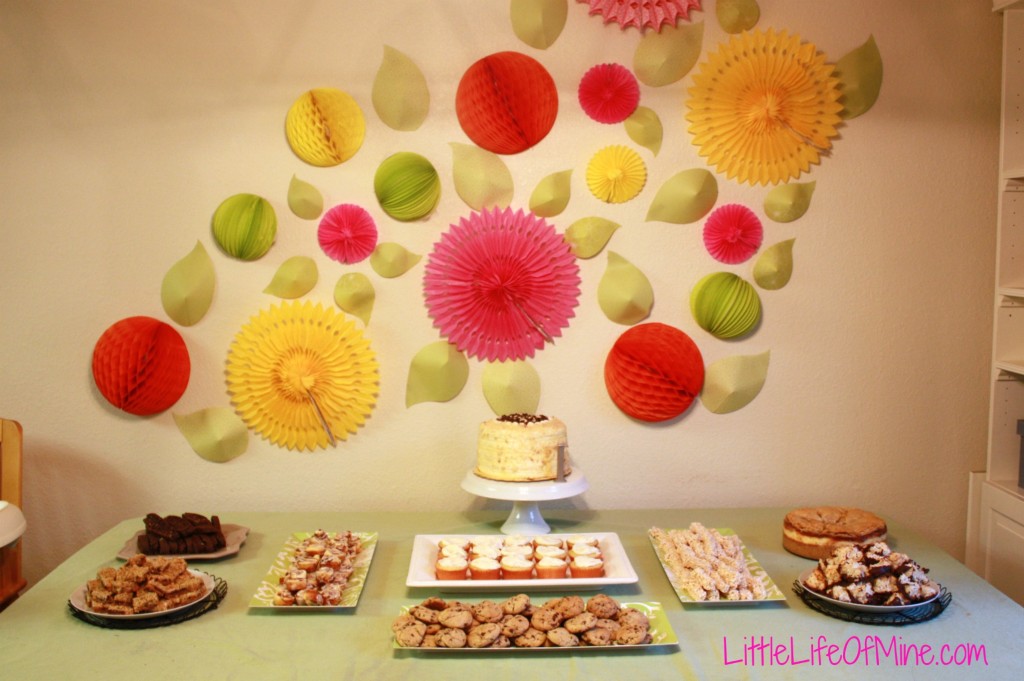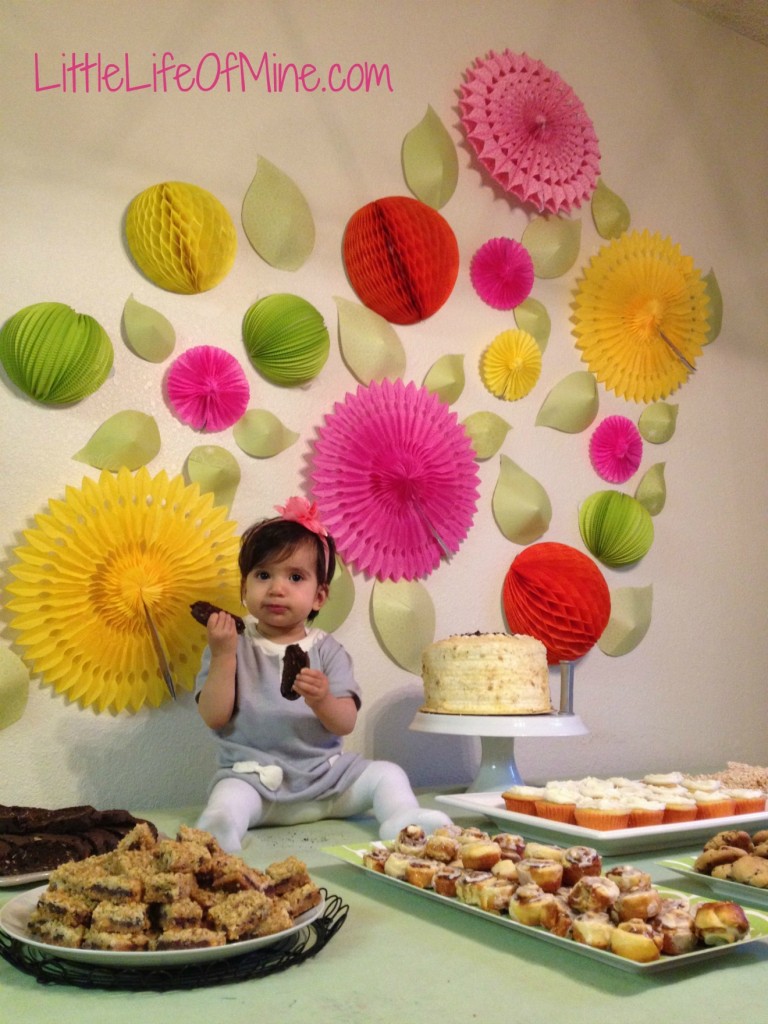 My amazing midwife Shannon joined us with her scrumptious new babe.  The celebration just would not have been complete without her.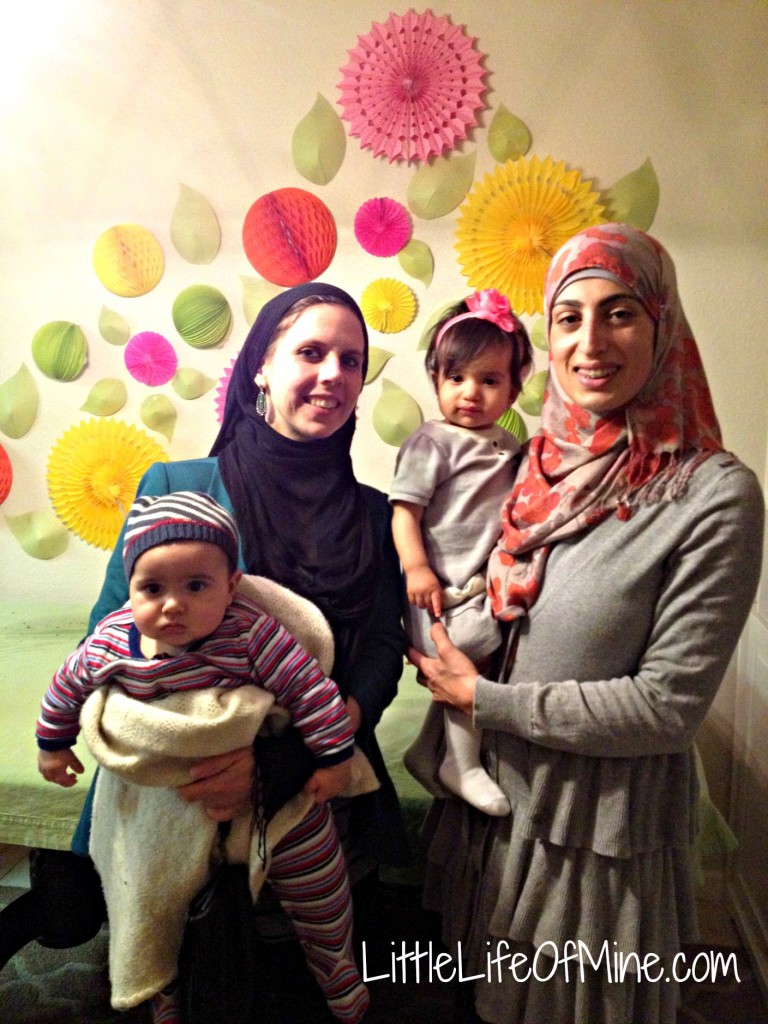 Each of the kids went home with their decorated charity boxes filled with some goodies.   I'm currently obsessed with chocolate coins and loved how they matched the idea of filling the boxes with money. I also included a kaleidoscope, bubbles, and a punch balloon.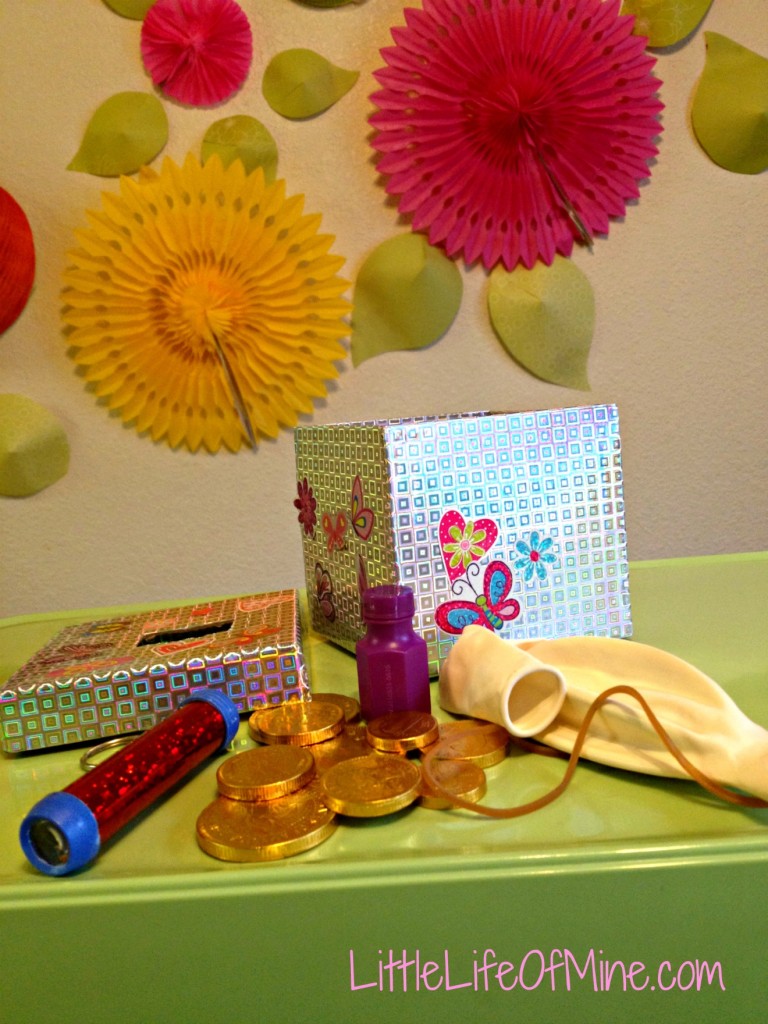 I loved this party!  It was simple but full of meaning and blessings. I only wish I began the tradition of a charity first birthday party with the other girls.  As kids left the party, they spoke of how they're going to donate using their own money and also hit up their fathers for extra cash!  I hope it inspired some of the kids to pay it forward.  However, my own little Maysoon announced that she wants real presents for her birthday.  So much for driving the lesson home.