Once I find a recipe that works really well for me, I rarely attempt another version.  If it ain't broke, don't fix it.  Right?
Well something about the word "mini" always gets me.  So when I saw these cookies a while back on foodgawker I figured I'd give them a try.  I like that this recipe uses less butter and one less egg than the recipe I've been using.  I've also noticed that I get more consistent results with this recipe than the other. I thought it was funny that the first recipe I was using was for jumbo sized cookies now I'm stuck on these mini ones.  You can obviously make these any size you please.  Just bake accordingly.
My new go to chocolate chip recipe.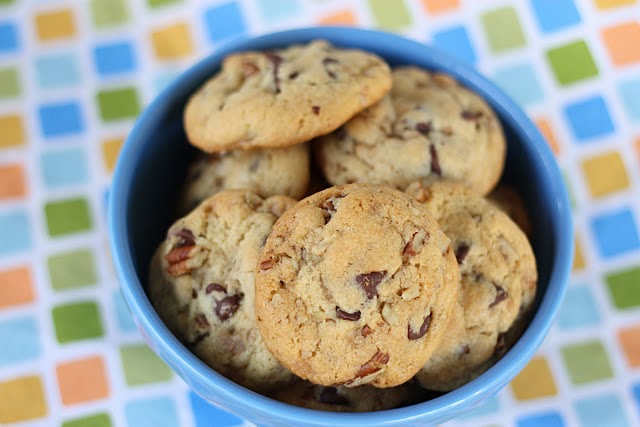 1 3/4 cups all-purpose flour
1/2 teaspoon salt
1 teaspoon baking soda
1/2 cup unsalted butter, at room temperature
1/2 cup packed brown sugar
1/3 cup granulated sugar
1 large egg
1 teaspoon vanilla extract
3/4 cup mini chocolate chips
1. Preheat the oven to 35o degrees F. Line a baking sheet with parchment paper or a silicone mat and set aside.
2. In medium bowl, whisk the flour, salt, and baking soda together. Set aside.
3. In the bowl of a stand mixer, cream the butter and sugars together until creamy and smooth. Add in the egg and vanilla extract.
4. Slowly mix in the flour, until combined. Stir in mini chocolate chips.
5. Roll dough into tiny balls, about 2 teaspoons of dough. Place on baking sheet and slightly flatten with the palm of your hand. Bake for 8 minutes or until cookies are golden brown and set. Remove from the oven and let cool on baking sheet for two minutes. Transfer to a wire rack to cool.
* I usually add chopped nuts to the recipe.