I could have just sent Jenin to Sunday school with a regular composition book with it's recognizable black and white hard cover. But I didn't.
I figured if I had the stuff to make it a bit more special, why not?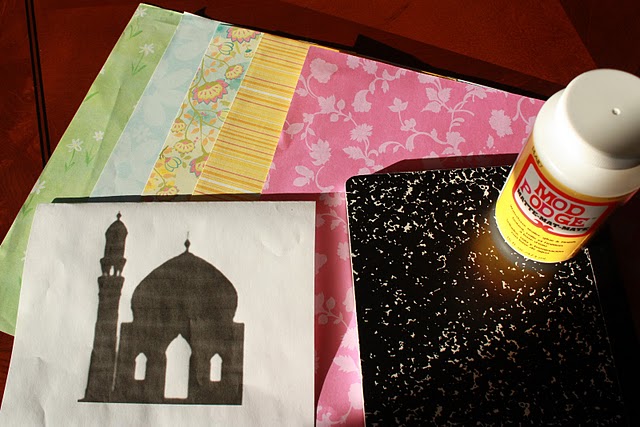 Sky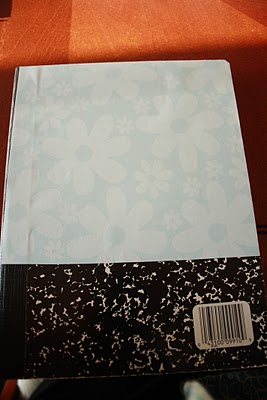 Grass. And look, I even planted some flowers.
Sun. So that the flowers continue to grow.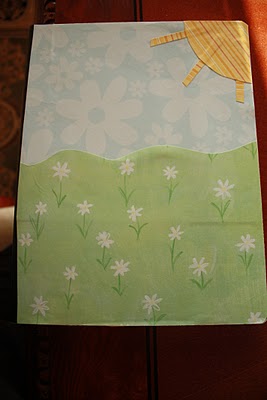 Mosque.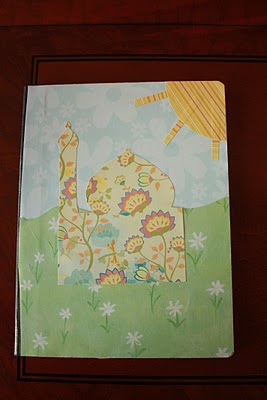 At least there will be no confusion over which notebook is hers.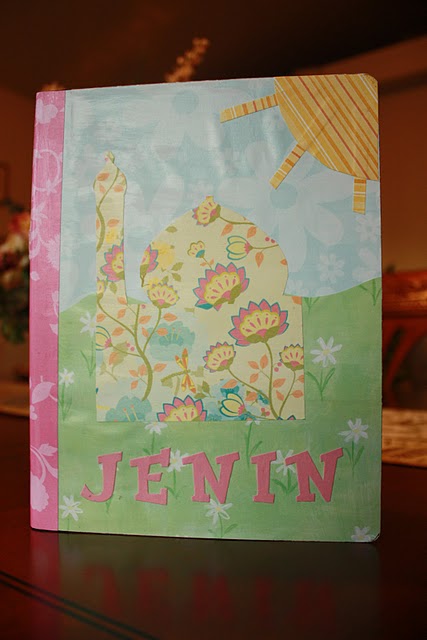 I could have showed up to the parents meeting this past weekend empty-handed. But I didn't.
If I'm going to have to sit through an early morning (okay, it wasn't that early) meeting, it might as well be with something tasty to munch on.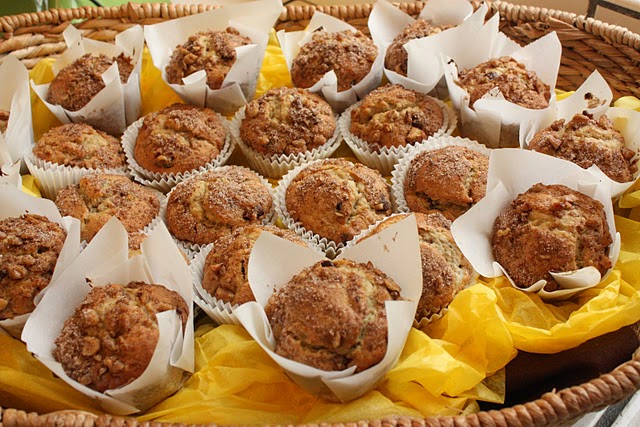 Wake-Up Muffins (via Comforts of Home Cooking)
Ingredients
1  cup chopped walnuts or pecans
3  tablespoons sugar
2  teaspoons ground cinnamon
1  8-ounce package cream cheese, softened
1/2  cup butter, softened
1 1/4  cups sugar  I used a heaping 1 cup
2  eggs
1  cup mashed ripe bananas (3 medium)
1  tablespoon instant coffee powder  I used only half
1  teaspoon vanilla
2  1/4 cups all-purpose flour
1 1/2  teaspoons baking powder
1/2  teaspoon baking soda
1  cup semisweet chocolate chips or pieces
Directions
1. Line 24 regular muffin cups with paper cups. In a small bowl, combine chopped nuts, the 3 tablespoons sugar and cinnamon; set aside.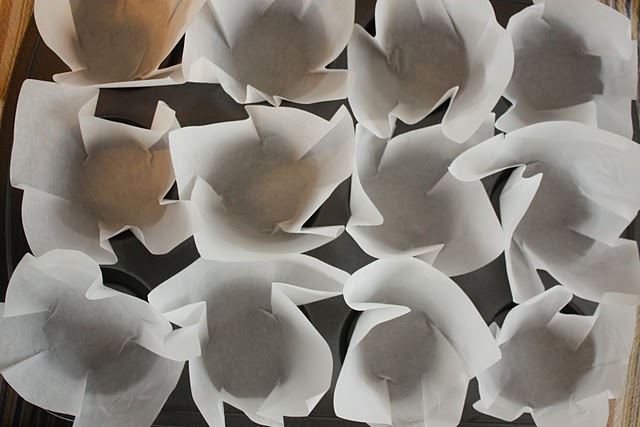 I've been wanting to try parchment baking cups for the longest time. Just cut out 5×5 squares and push into cups, creasing to hold shape.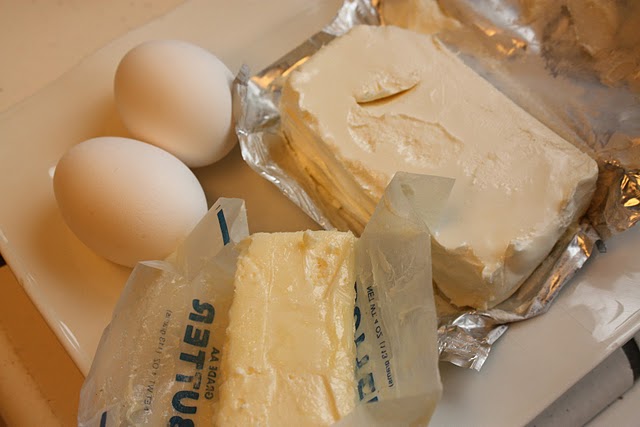 2. In a large mixing bowl, beat together the cream cheese, butter and 1 1/4 cups sugar with an electric mixer until well combined.
3. Add eggs, one at a time, beating well after each addition. Beat in the bananas, coffee powder, and vanilla.
4. In a medium bowl, combine the flour, baking powder and baking soda.  Gradually beat the flour mixture into the cream cheese mixture on low speed until combined. Stir in the chocolate pieces.
5. Stir in half of the nut mixture into the batter.  Spoon batter into muffin cups, filling about two-thirds full. I measured out 1/4 cup per cup. Made exactly 24. Sprinkle with remaining pecan mixture. I used about 1/2 to 1 teaspoon of topping for each muffin.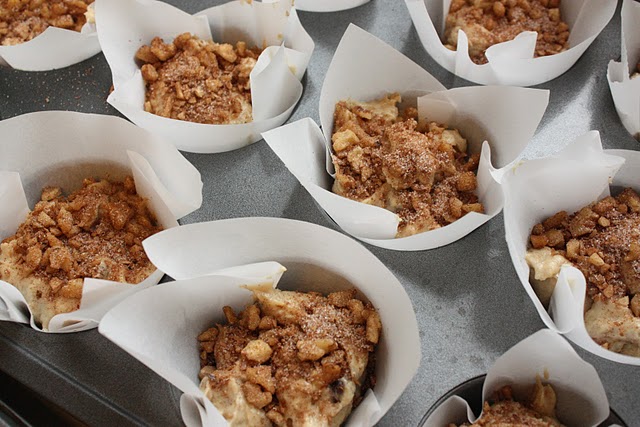 6.  Bake in a 375 degree oven for 20-22 minutes or until a toothpick inserted into the centers comes out clean. Cool 15 minutes in pan on a wire rack. Remove muffins from pan and serve warm.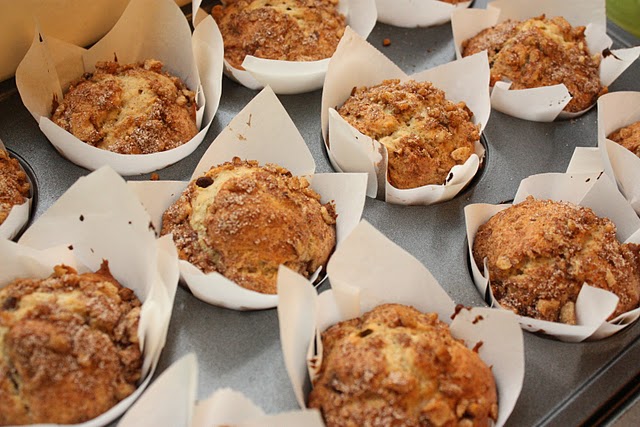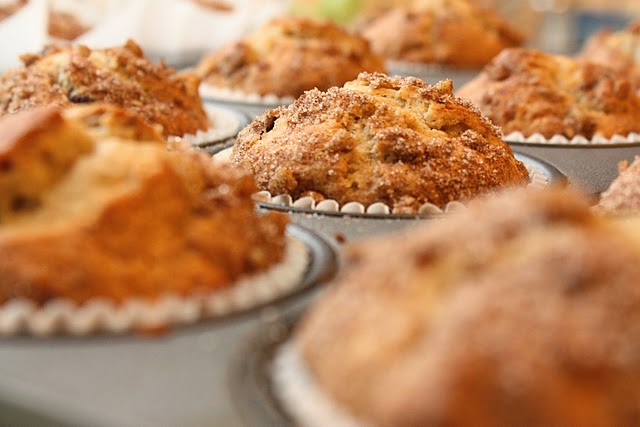 Yum.
Too bad I'm not an overachiever when it comes to laundry or cleaning out my garage.