While flipping through a magazine many years back, I came across an article of a family celebrating Christmas and their home decorations.  There was an image of drawstring bags attached to thin rope strung around the dining table.  It hit me that I should do that for Ramadan.  I had the intention to create a drawstring bag advent calendar for Jenin. I had all the materials and supplies but never got around to it.
Every year Ramadan would come and go and I still had never created any advent calendar of sorts. This year, I'm not necessarily giving up on the dream, but I'm making it a bit easier on myself so I can stop being so hard on myself for never achieving that goal.  This year, I went with a bucket list.  Not even 30 items. I wasn't trying to overdo it and wear myself out.  Just a reasonable amount of reasonable tasks. Surely another tradition I wish to continue.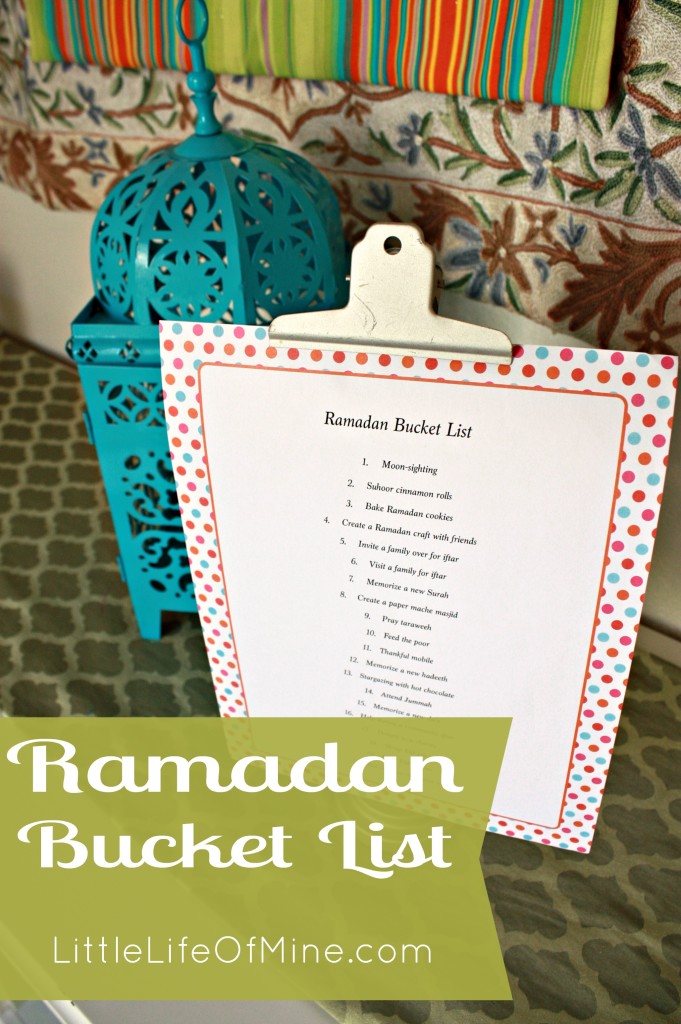 On our list:
Moonsighting
Suhoor cinnamon rolls
Bake Ramadan cookies
Create a Ramadan craft with friends
Invite a family over for Iftar
Visit a family for Iftar
Memorize a new Surah
Create a paper mache masjid
Pray taraweeh
Feed the poor
Thankful mobile
Memorize a new hadeeth
Stargazing with hot chocolate
Attend Jummah
Memorize a new du'a
Help during a community Iftar
Donate to a charity
Wrap Eid gifts
Bake Eid cookies
Eid morning cinnamon rolls
If I knew anything about creating printables, I would have created one and shared it here with you all.  I simply typed this up in Word and printed it on patterned printer paper.
What's on your Ramadan bucket list?