A couple of years ago I made moon and star shaped rice crispy treats.   People went crazy over them, inquiring about where they can get the moon cookie cutter.  Stars were everywhere, but a crescent moon was hard to come by.  My sister had actually picked  it up for me from a local shop in Washington, but it was available on Amazon. Sometimes. It was usually sold out.
So these star and moon rice crispy treats we're taken really well. Like all over Pinterest, well.  It was the combination of the star and moon together that made it so perfect. And well the rice crispy treats had something to do do with it, because who doesn't love rice crispy treats? Don't answer that, otherwise we may no longer be friends.
Muslim moms/bakers/party makers, were on the hunt for those perfect cookie cutters.  I'm pleased to inform you that Salaam Designs stepped in and is saving you all from creating your own cookie cutter out of scrap metal from your local hardware store.
Salaam Designs not only offers the coveted star and moon cookie cutters, but it also includes an adorable lantern and sweet little mosque as part of their holiday cookie cutter set. All together now, "Thank you Salaam Designs!".
Being me, I was thrilled that there was a new Islamic company providing awesome Muslim-y Ramadan and Eid decorations and gifts. Just can't get enough!
So when Salaam Designs offered to send me their cookie cutter set to review I was…freaked out! Oh sure, I can be crafty sometimes and I'm pretty good with a cookie recipe, but decorating? Yeah… no. But, being me, I was like "yeah sure!" willing to take on the challenge.
Receiving the cookie cutters worked out perfectly with our Ramadan bucket list, as making cookies was right there on the list. I used the cookie cutters as part of Jenin's Ramadan morning gift basket which added an adorable touch.
I whipped up my favorite sugar cookie recipe and the next day rolled out the dough for the girls and I to use the cookie cutters. "I want a lantern!", "I want a masjid!", "Can I make 10 moons?" were just a few things overheard during out cookie session.  All the while, Baby Z consumed an undisclosed amount of raw sugar cookie dough. #thirdchildproblems

The cookie cutters cut through the dough beautifully. As long as your dough is chilled well, you shouldn't have any problems.  As our dough began to warm up, we had a bit of an issue with the mini crescent moon at the top of the minaret on the mosque cookie cutter. Just make sure your dough is chilled and use a spatula to pull up the cookie off your well floured surface. I took over the mosques, while the girls easily handled the other less delicate shapes.
Be sure to chill your dough again prior to baking so that the shapes stay as close to their actual shape. Otherwise, you run the risk of the dough spreading out too much messing with the shape of the cookies.
The next day the girls started to decorate cookies but left with their dad for a fun day out on the town. So I was left to, um, "decorate".  I can do this, I can do this, I can do… who am I kidding? I mixed up some simple royal icing and just used a fork to drizzle over the cookies. The rest of the cookies, I dipped the tops for one solid color.  As a whole, it looks intentional. Almost kind of modern and chic. Almost like that was my original design plan.
We later packaged up the cookies and distributed them to our favorite local friends.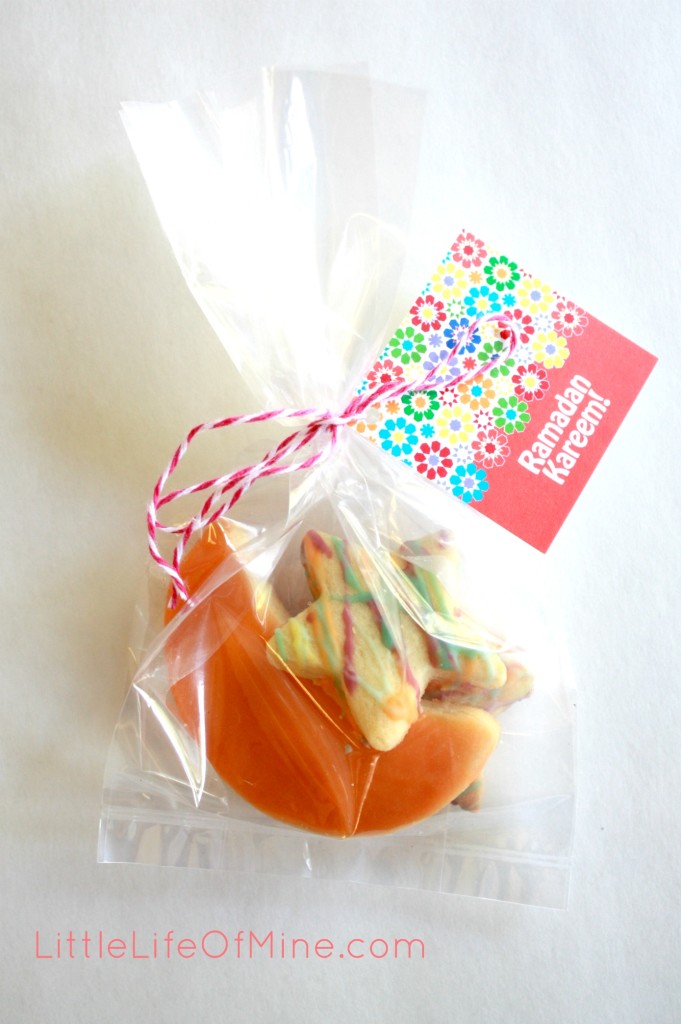 Needless to say, I love the cookie cutters. I love all cookie cutters.  Even though I already previously own the coveted moon, I'm grateful for a double! I also own numerous stars, but love Salaam Design's star because it's more rounded with softer edges. The lantern is pretty much my absolute favorite.
Salaam Designs isn't just about cookie cutters. They offer an awesome array of Ramadan and Eid decorations, specifically holiday lights, wooden word blocks, and gorgeous lanterns.
But wait, there's more…
Call now and we'll double to offer!
Just kidding.  It's late and infomercials have taken over the TV.
Cookie cutters are not just for making super adorable cookies. Check out this post I wrote about 10 Fun and Useful Tips and Tricks for Using Cookie Cutters. I put my own advice to use and made salt dough ornaments!
And of course, my favorite use of cookie cutters outside of actual cookie making:
Using the Rafflecopter form below, enter to win your choice of Holiday Cookie Cutter Set or Cookie Stencil Set. Open to US residents only.
a Rafflecopter giveaway