This post is totally overdue.  Like way past overdue.  Like ridiculous library fine overdue.
I received my Simply Impressions decal back in December.  No, not of 2012.  December 2011.  I'll just give you a minute to recover from the ridiculousness of my lateness.  But I have a really good reason. I received them a couple days before I gave birth to Baby Z!  I was so dedicated to reviewing the product and putting them to use, that I was in Micheal's, while in labor (!), picking out a frame for the idea I had.
Well, I had Zaynab, forgot what two solid hours of sleep felt like, and barely made it out on the other side of the 6 month mark. By then my idea had switched a couple of times. I originally wanted to adhere the decal to the glass front of a large frame. I would then frame a beautiful fabric to act as the backdrop to the decal.
Well, for some reason I wanted to try something a little more creative.  So I attempted to adhere the decal to a canvas with the intention of painting over it and then removing the decal to reveal the white canvas beneath it.  Somewhere throughout the process, I messed up and ended up ruining the decal! Major mommy brain moment.  I may or may not have broken down and cried. But I blame the postpartum hormones.
Before this post gets anymore awkward with pregnancy/labor/delivery references, I ended up purchasing a new decal. The first was a complimentary sample given to me by Simply Impressions.  I wanted to fulfill my amana, or trust, to the company. So I had my decal, then… we suddenly moved. Then I had to deal with the drama of a sudden move. Then I lost the decal during the move. Then I found it. And this post keeps getting longer.
Two weeks ago I decided, enough is enough. It's time to get this done.  My husband took the girls to the park one evening and I spontaneously painted an accent wall in my kitchen.  I desperately wanted to paint one of my Islamic art motif stencils there, but decided that the effort would have been too great for such a temporary location.
Aha! My decal! I pulled it out and called my own personal decal applying expert of a best friend to come over and "help me" put it up.  She really did all the work. I just said "mhmm, right there. No, a little to the left. That's good. Okay I'm going to go bake a cake." True story.
Finally getting to the official part of the longest review post in the history of this blog. You know me, I love a good story.
Seriously, in under an hour, the decal was up and on my wall.  Using the super convenient level markers that are placed on the decal sheet, we were able to position it perfectly on the wall. The only trouble we ran into is the fact that my walls are A. super textured and B. the paint I had was a semi-gloss.  Because of those two factors, we ran into the issue of the decal not sticking particularly well despite the decal being really sticky! We (okay, She) solved the problem by applying a coat of matte Mod Podge.
I know people who have used Simply Impressions decals who did not have my problem! Like I said semi-gloss painted textured walls aren't ideal conditions, but it's possible!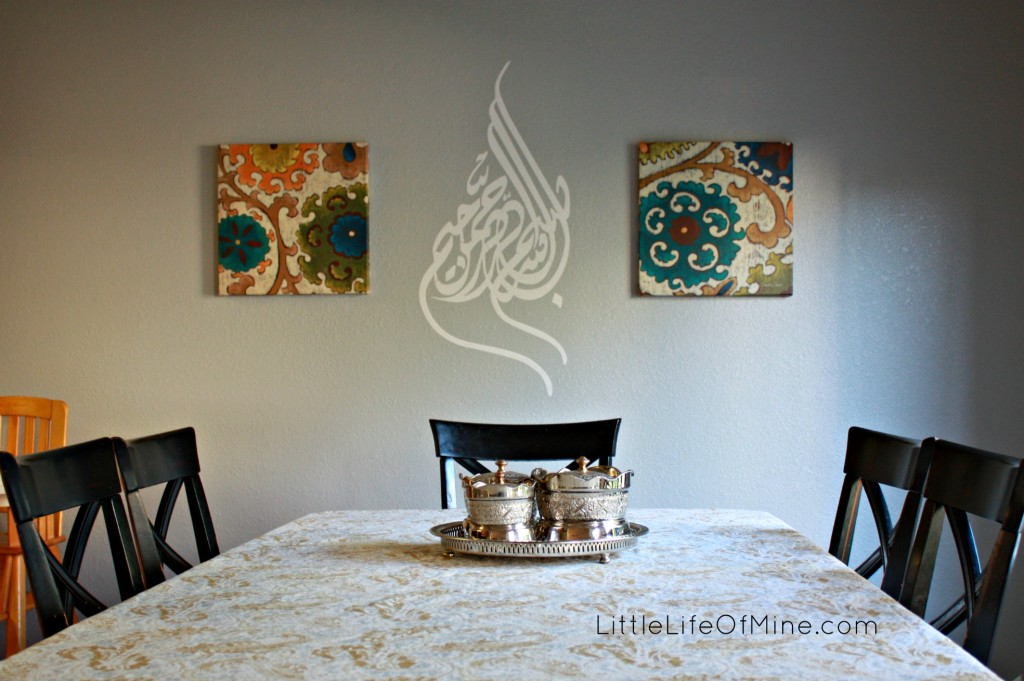 The decal is beautiful.  It makes me happy every time I see it. It adds a completeness to my previously bare kitchen wall. It has made this house feel more like a home. It reminds us to say "Bismillah" when we eat! Ha! I'm actually considering playing off of that whole idea and turning that entire wall into a kitchen themed gallery wall.
If you're still reading, bless your heart, it'll be worth it in the end.  Simply Impressions is one of the first companies to come out with these incredible Islamic decals. The only time I had ever seen these available was overseas and they were used on the back windows of taxis!
The great thing about Simply Impressions, is that they offer a wide variety of styles, sayings, and color options.  Searched the whole site and still can't find what you're looking for? No worries. Hit up their custom decal section and get exactly what you want.
But Amnah, don't you live in a rental? Yes, yes I do.  That's the great thing about decals, they're easily removable when you move out.  Don't let renting stop you from adding some personal and beautiful touches to your walls.
These decals would make an awesome housewarming gift, Eid gift, or hostess gift. Not sure what style or color your gift recipient would like. No worries, they have gift certificates!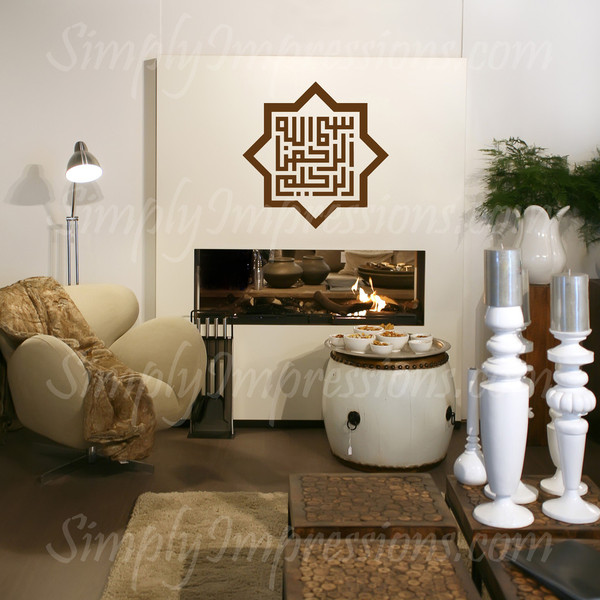 Enter to win 1 Large Brown Bismillah Star decal.
a Rafflecopter giveaway

This Little Life of Mine received a complimentary Simply Impressions decal (which I messed up and reordered) .  The opinions reflected here are entirely of my own.