We all have them.  Those loooong strings of lights that we picked up on clearance (or perhaps you paid full price, silly you).  Colored or plain white.  LED or traditional energy gulping bulbs.  We string them up for Ramadan and Eid to make our homes more festive for our kids (okay and for us).  They're magical and twinkly and just plain fun.
But once those lights are unplugged during daylight hours, they're loooong strings of lights draped around our mantels, wrapped around our banisters, and hung across our ceilings begin looking like spiderwebs on steroids.
I saw this idea months ago and knew this was the way to go to make the strings look festive all day and night.  Tying ribbon to the lights is an incredibly simple way to spruce up the lights and give your decorations a more thought out feel.  Ribbons can be used to enhance your current color scheme or add color to your current display.  You can go fancy or funky. It's your call.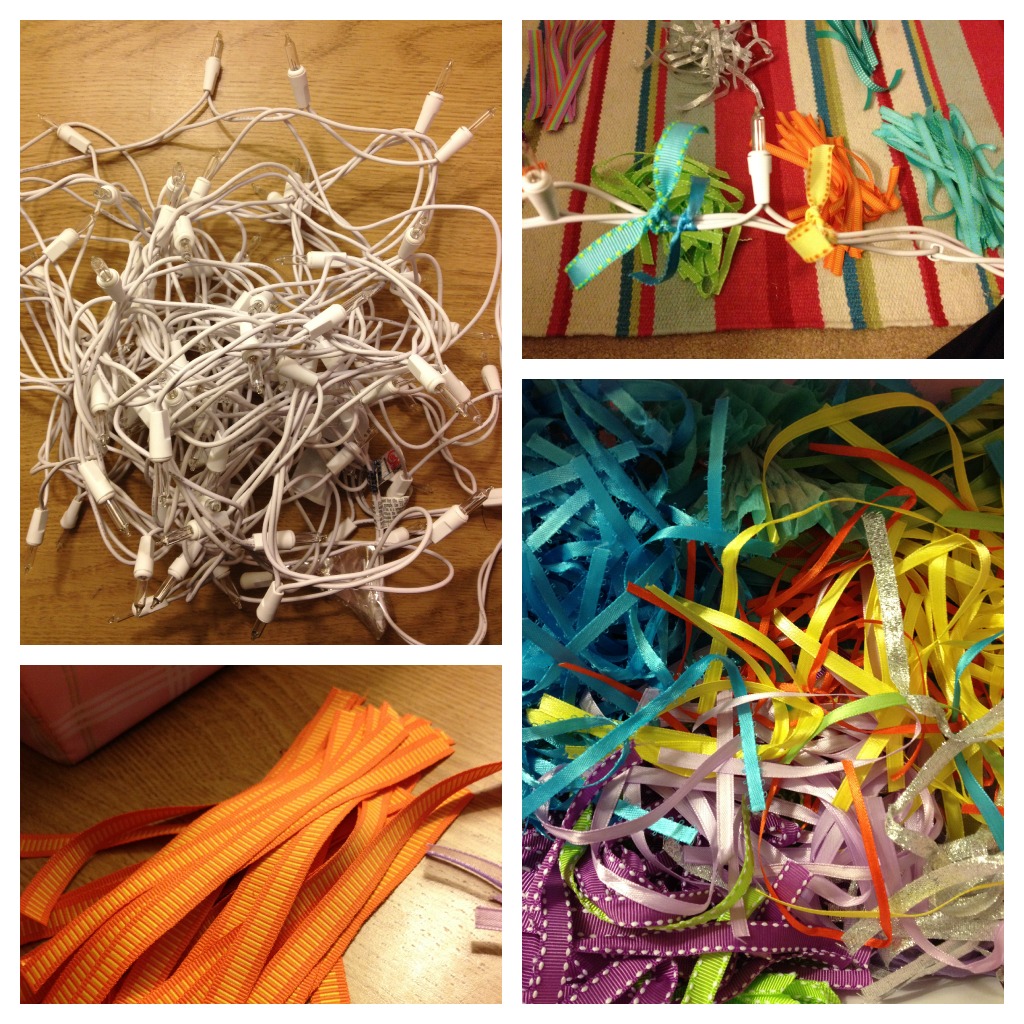 Supplies:
One strand holiday lights – the shorter the better, I used the 100 light strand
Ribbon in the width and color of your choice*, cut to 6 -7 inch lengths
*A note about the ribbon: The 10 yard spools are ideal for getting the most coverage throughout the string of lights.  Wider ribbon provides thicker coverage between each light.  I used 5/8 inch ribbon that I already owned which happened to work perfectly with my color scheme of yellow, purple, apple green, orange, and turquoise. I used the thinner and cheaper ribbon – which I also already had – as filler between the ribbons.  Wired ribbon is not suggested.  Thicker ribbon gives it fuller look and the colors stand out more. There is no wrong way to do this.  Take this project and make it your own.  If you're worried about not having enough ribbon, start from the center of your light strand and work your way out.  This way you have the middle full and covered to your liking and the rest can taper off.  Does that help? I feel like I just made this super simple craft sound very complicated.
Directions:
1.  Cut ribbon to desired lengths.  Factor in tying the ribbon twice to the strand.  Too short – you'll risk not achieving you're desired look.  Too long – you're going to run out of ribbon quickly. I found that 6 – 7 inches of ribbon work best for me.
2.  If using multiple colors, decide on a pattern and lay it out before you.   Or keep it random.  Remember, there is no wrong way to do this.
3.  I started from the end of my strand and counted about 10 – 15 lights in before I started tying my ribbons on.  Be sure to double tie the ribbons. Otherwise they'll eventually become loose and just fall off.   I tied in the order of my sequence I had laid out.  Once I reached the end and realized I still had extra, I started over in a new sequence and added more ribbon.
Note: While this may be a very simple project, it takes time.  I listened to lectures online as I sat tying away.  Set aside a time to do this when you can fully just sit and tie and tie and tie and… Ooooor, have someone (like your kids?) help you tie the ribbon on.  This would work especially well if you're just tying in a random pattern.  Unless you're super synchronized and can work as a team to get the ribbon on in order.  Sorry, there are no medals offered for that.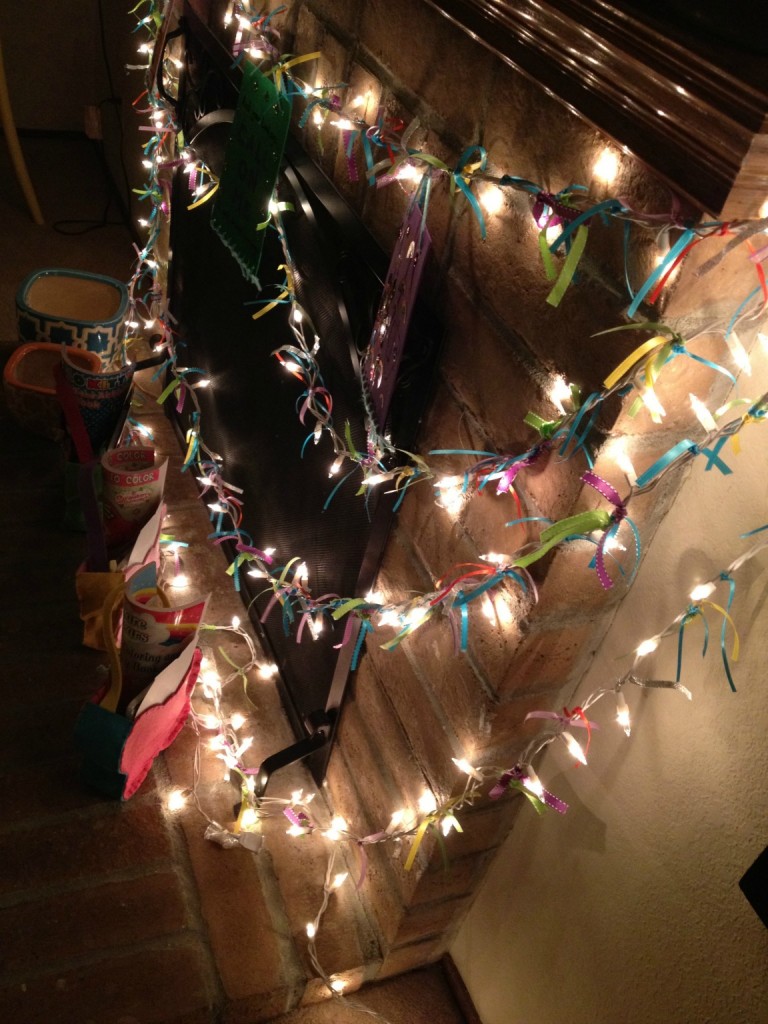 How have you taken a store bought item and made it suitable to your holiday style and decor?