Colours of My Life Photo Challenge Day 10 – A picture of your most treasured item.
My grandmother's headscarf and glasses.
When my grandmother passed away, I knew exactly what I wanted from what little belongings that she had brought with her to California. Her little headscarves that she used to tie on and wear under her khirka, a long, loose, cotton white shawl, and her glasses. I also wanted her turquoise stone rings that she always wore, but Iman got those. She was her favorite after all.
I wrapped her scarf around a thin piece of cardboard and attached my favorite picture of her with a bit of double stick tape. The glasses fit perfectly between the glass of the frame and the back board. A few months ago while I was cleaning my grandmother's room at my parent's house, I decided to fold her traditional embroidered Palestinian dresses and put them at the top of the closet instead of leaving them hanging. As I shook them out and folded them perfectly, I heard a muffled jingle. I knew automatically where to look.
A thoub, the traditional dress worn by most of the elderly Palestinian woman, does not have pockets at the hips. Instead, it is at the chest. I'm not even sure if all grandmother's have this pocket or if it was just Sittie, my grandmother. Sitti used to carry everything in that pocket. If she was going to be out, she would pack away her lunch in there. There was always a piece of candy or stick of gum for a child that she may have seen during the day. And most certainly it is where she carried her money.
Once my hand touched those cold shekels, the currency used in Palestine, I felt weak in my knees and tears rolled down my face. Sitti's money. Her small, wrinkled hands with the turquoise stone rings were the last to touch these coins. Bus fare. Change from the little shop around the corner, perhaps. A few pieces left from the land and life she left behind.
I knew immediately that I would add them to the scrapbox that I had already created for her items. I miss her terribly but I'm happy that I have these items as a daily reminder of her.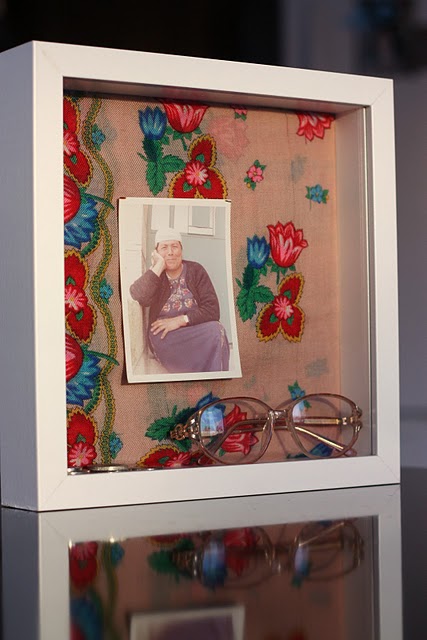 More about scrapboxes here.
Linking to: Made by You, Just Something I Whipped Up, Get Your Craft On, Blue Cricket Design, Sew Much Ado, Somewhat Simple, Tatertots&Jello.