I've never had an actual s'more.  The whole marshmallow roasted on a stick over a campfire while your eyes burn from the smoke kind of s'more.  Nope, never.
Don't feel so sorry for me though.  I've had toaster oven s'mores. That's kind of cool.  Until the little timer goes off and your kids realize that something is up.  I don't like sharing my toaster oven s'mores.  Kids shouldn't be eating that kind of junk anyways.
I'm more than willing to share a batch of suburban s'mores though.  Only because I can't eat an entire tray on my own.  I've tried.
I first made these a million years ago and posted a picture with a link to the recipe but that blog no longer exists.  So here's the way I make it.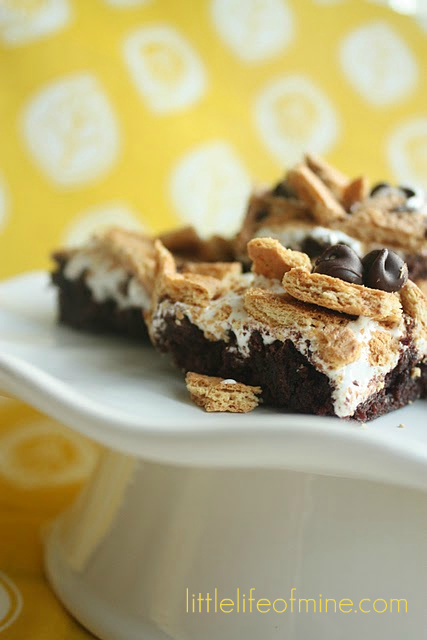 Suburban S'mores
1 box family size brownies (13×9)
1 jar marshmallow creme
1 package graham crackers
1 handful chocolate chips
Prepare brownies as directed on the box.  Bake in a 13×9 pan, but take it out about 7-10 minutes early.  It should be firm, not gooey.
Drop dollops of marshmallow creme over the surface and let it melt a little before spreading evenly all over with a rubber spatula.  Don't worry if some of the brownie's surface starts to crumble into the creme, but try to spread it more gently or wait until it melts a bit more.
Crush one package of graham crackers coarsely with your hand and sprinkle evenly over marshmallow layer.
Sprinkle with a handful (or more) of chocolate chips.
Put back into the oven for about 7-10 minutes until the chocolate chips melt.
Remove from oven and let cool in pan.
Make some this weekend. Just don't blame me if your jeans don't fit the same way Monday morning.
Linking to: Made by You, Just Something I Whipped Up, Get Your Craft On, Blue Cricket Design, Sew Much Ado, Somewhat Simple, Tatertots&Jello.