Fall is my absolute favorite season! I love everything about it from the crisp weather to the bright colored foliage. I was thrilled to review Carter's new fall line, available now in stores! Everything in the store is 40% off too! They have the best sales! Hurry, sale ends August 5. It was easy to scoop up an armful of great pieces including the cutest pajamas ever. We can all agree that Carter's has the cutest pajamas, right? Right!
This fall, Carter's is all about mixing patterns. Camo, vintage florals, tomboy chic, and plaids are all hot right now. During my trip to my local Carter's, I picked up a little of each!
My oldest is crazy about camo ever since she saw her older, hipper cousins sporting the trend. She was thrilled to get her hands on her own camo leggings. She loves how soft they are and how she's now as trendy as her tween cousins. We mixed her cool camo with a soft vintage floral dress for a fun play on patterns that works perfectly together.
For Maysoon, the whole Tomboy chic line was perfect for her. She loves, loves dresses, but isn't afraid to embrace her love of Transformers.  We went with the another vintage floral find, this time in a beautiful skirt. It paired perfectly with a varsity style tee that was "practically perfect" for Miss Maysoon.
The little ones were napping during our little photo shoot. For them I bought a sweet complimenting set. Z will be rocking her fun coral pants with an adorable denim chambray top. Amani will be decked out in stripes and vintage floral jeans. So cute!
While there, I couldn't resist the adorable baby boy clothes and picked up something for my newest nephew. I loved the plaid tops and fun mustache onesie.
I love that Carter's caters to my littlest all the way to my oldest. They now go up to size 12! Their styles are in line with what I expect little girls to wear. Soft clothing that's perfect for play. Cute and trendy pieces that are fun but age appropriate. I definitely appreciate the modest silhouettes.
I know that you know that everyone knows that Carter's is where it's at when it comes to quality we can all count on.  As the largest branded children's clothing company in the US, they sell over 400 million pieces of children's clothing a year! Awesome!
I got all these goodies for my gang, now it's time to share the love with you! Enter to win a $50 Carter's gift card to use towards any of their great trends this fall. Of course I'm going to throw in a 20% off $40 purchase coupon because, c'mon, who doesn't love to score a great deal?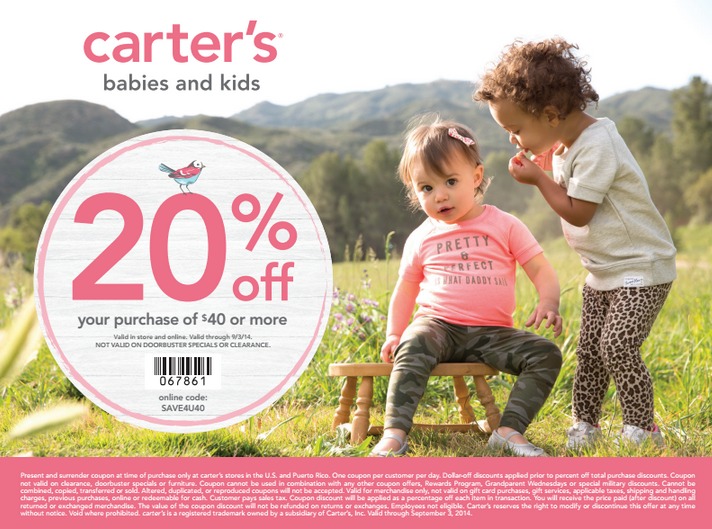 This Little Life Of Mine received a complimentary gift card to review the above products. This in no way affects the views or opinions expressed in this post.