While the title may say Weekend Breakfast, these waffles are actually easy enough to make during your weekday mornings and I have many times.  The batter comes together quickly and I have consistent results each time I make them.  Rami prefers his crispy so I cook them longer, while I like mine soft so I take them out early.  If there is any leftover batter, I make the waffles and store them in the fridge in an airtight container.  They reheat nicely in the toaster oven the next morning.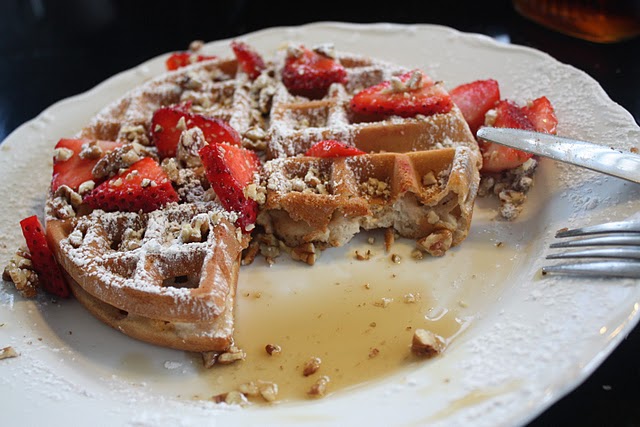 I'm a pour-syrup-on-the-side-and-dip kinda gal.  What about you?

I love this recipe so much that I think I've made them over 10-15 times in the past two months.  Seriously, they're that easy to make. My lovely cousin scored me a $70 waffle maker for only $10 on Black Friday.  It's definitely made a place for itself in our kitchen.
Easy Waffles  (adapted from babble )
2 eggs
1 3/4 cups milk
1/3 cup vegetable oil
1 teaspoon vanilla extract
2 cups all purpose flour
1 tablespoon baking powder
1/2 teaspoon salt
1 tablespoon sugar
In a blender, beat the eggs, milk, and oil until frothy. Stir all of the dry ingredients together until well mixed. Make a well in the center of the dry ingredients, pour the wet mixture into the well, then stir just until the mix is moistened. Pour a scant one cup of batter onto a hot waffle maker and cook until golden brown. Serve immediately.
Top with your favorite fruit and/or chopped nuts.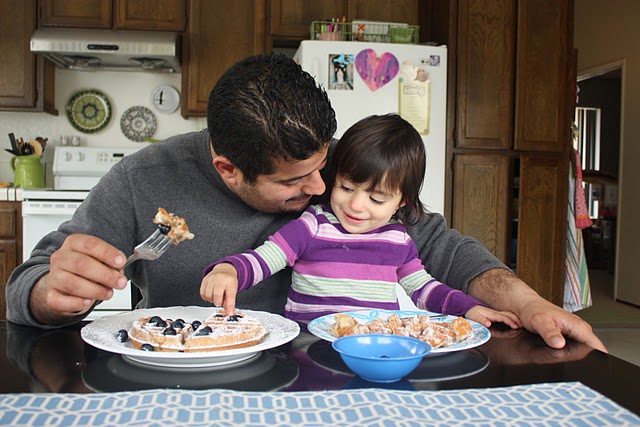 I've topped mine with strawberries, blueberries, bananas, toasted coconut (yum, this was so good), pecans, walnuts, simple powdered sugar, basically anything I had around. Just not all at once, though I'm sure that wouldn't be so bad. The types of toppings you add always make it special and new.  This way you don't get sick of having waffles everyday for a week which may or may not have happened at our house.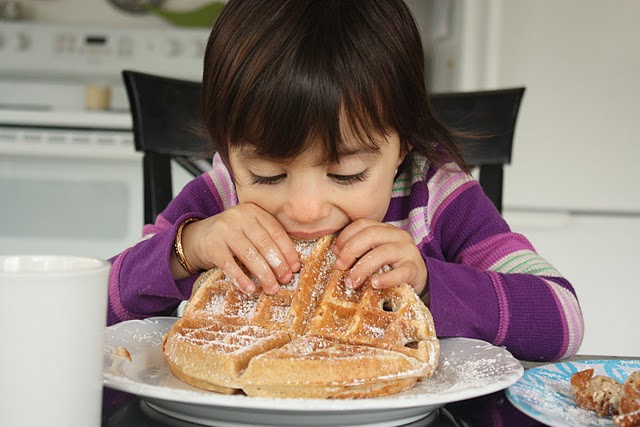 Well, that's one way to eat it.