Tahoe is a different place without the snow.
The weather was perfect. It lasted 3 hours which was 2 hours and 45 minutes longer than Jenin could have cared for. I enjoyed it a lot. The water was gorgeous. The deepest blue I've ever seen. On the way back to shore the water looked as if it was covered in glitter. I could have stared at it all day.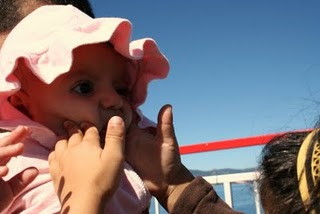 To pass the time Jenin resorted to torturing Maysoon.
This picture of Maysoon cracks me up. Jenin was averting pictures the entire trip. We had to bribe her to take one with us. Rami's eyes are closed, Maysoon is cut off, Jenin is annoyed… A second picture was totally in order but Miss J refused so that's it. Our family pic in Tahoe. Frame worthy, right?
After the cruise Rami went jet-skiing ("Lucky!" in my best Napoleon Dynamite voice) while me and the girls played on the beach. This was definitely my favorite part of the entire trip. Like I said the weather was amazing. The sand was hot but the water was so cool. It was incredibly refreshing to step across the sand into the water. Our entire trip happened during the week so we didn't have to compete with a lot of people for nice spots. I don't think I'll ever travel on a weekend again.
Zephyr Cove will stand out in my memories the most from this trip. We spent the most time together which is what our trip was really all about. We'll be back.
Stay tuned for Reno.