With all these giveaways, you'd think Eid was right around the corner.  Oh wait, it is. 🙂
Every hijabi knows the drill:  Walk into a clothing store, pass the tops, and head straight for the dresses in search of a long and modest "shirt".    Except you know, and I know that it's actually a dress.  When online shopping, I don't even bother clicking "Tops". Straight to "Dresses" for me.  Even then I'm left sorting out the ones that won't work.  Too tight on the bust, low revealing back, just plain ugly.
Once we do find a dress/shirt that works, we still have to "hijabify" it.  You know, add a long sleeve Tee underneath or a cardigan or jacket above to cover up the lack of sleeves.  It gets downright tiring trying to prep one piece to be suitable enough to wear out.
Ladies, the drama and hassle is over.  Just in case you happen to not know, where have you been?, introducing Zeena.   Zeena, Arabic for natural beauty, provides clothing that is beautiful, modest, and modern.  All in one spot.  No searching around for a matching something or another to make your piece work.  The tops are long enough, the skirts are cute enough, and the scarves and wraps will bring it all together.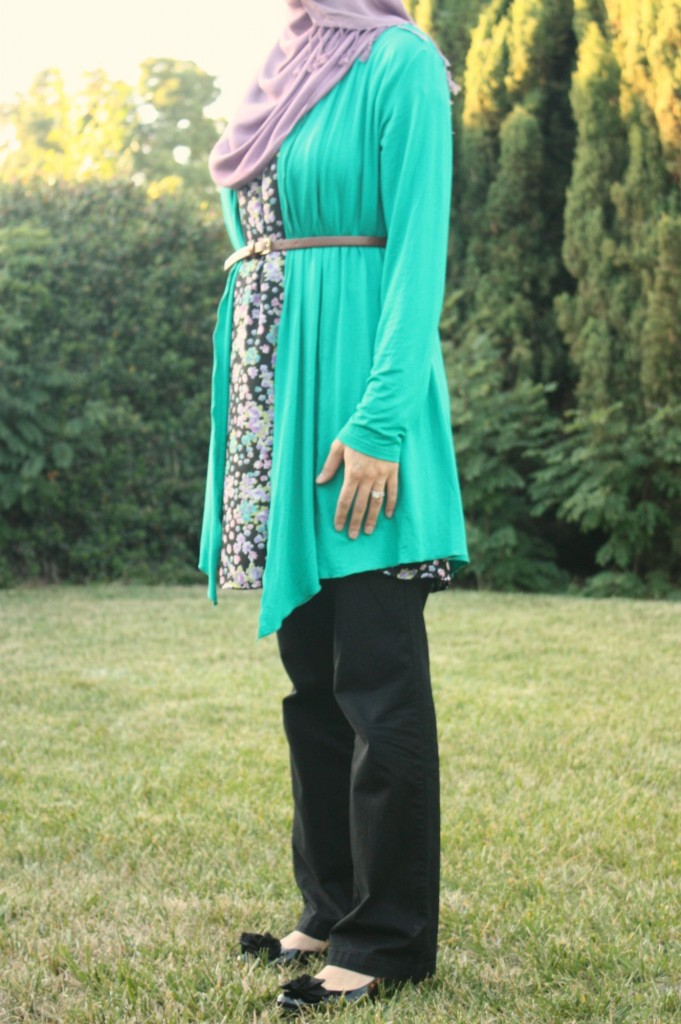 My sister brought me home the teal Tie Shrug from ISNA this year.  I was so excited to get home from my vacation to try it on.  For a piece of clothing to become eligible of becoming one of my favorites, it must work with other pieces in my closet.  Once I started trying on my clothing with the shrug, I was blown away by how many other tops [read: dresses] it worked with.  It went great with plain tops such as a long white button down, as well as prints that had bits of teal in it.  I never realized how much clothing I owned that had teal in it. Not just any teal, the exact shade.  It was meant to be I tell you.
The Tie Shrug features a thin removable belt that can be tied closed in the front or tied to the back to show off the top you're working with.  The fabric is so soft.  It's thin enough to be comfortable in warm weather.  In my opinion you would need to wear some type of shirt or camisole underneath as the tie isn't meant to fully secure it closed.
The Tie Shrug is currently the only Zeena piece I own, the Ribbed Hoodieis next. Hello early morning Kindergarten drop offs.  My sister Iman however is a repeat customer.  And if you know Iman, homegirl has style.  She won't wear just anything.  She looks for quality and elegant styles that last.
Some other beautiful pieces offered by Zeena:
Guess what? Zeena is awarding one lucky reader with a $20 gift certificate to their website! Yay for elegant and modern clothes!
How to enter:
One winner will receive a $20 gift certificate in the form of a discount code to enter at checkout for SimplyZeena.com.
Contest starts Tuesday, August 23 (sorry, it should have been yesterday) and ends Monday, August 29 11:00 pm PST.
Qualifying comments:  (be sure to leave a seperate comment for each entry. 3 total.)